Wood, a global project, engineering and technical services company, is active across a broad range of industrial markets, including the upstream, midstream and downstream oil and gas, power and process, environment and infrastructure, clean energy, mining, nuclear, and general industrial sectors.
Q: Describe your project in a nutshell
We're working with our partners to integrate new data and control technologies into an end-to-end system that will be demonstrated in an inactive environment this September.
We've based our guiding vision on three main themes:
We want to enable planning and waste characterisation to take place on location and in real time, effectively bringing the laboratory – usually located 'somewhere else' - onto the worksite
Decommissioning complex cells will require the in-situ cutting up and removal of large items that are high in the structure, such as vessels, without spreading contamination. We're aiming to reduce the risks of working-at-height by bringing the waste to ground level early and in a controlled manner
We will improve control of robotic systems through innovative user interfaces and real-time planning, bringing tools together into a seamless operating process
Our project is anchored in the reality of the current decommissioning landscape but uses innovation to push into under-developed areas.
The technologies in our new system include:
novel material-handling solutions, designed to reduce the risks associated with working at height
a modular control environment enabling innovative system reconfiguration and control integration
'mixed reality' headsets which extend virtual reality to allow a virtual object to appear in the physical world in an intuitive way
advanced sensing systems
advanced gripping and grasping technology which simplifies handling of irregular shapes
One new feature is to consolidate data captured by sensors into a coherent model that supports all stages of the process in an ever-changing environment, from high-level engineering and tool selection to activities on the ground.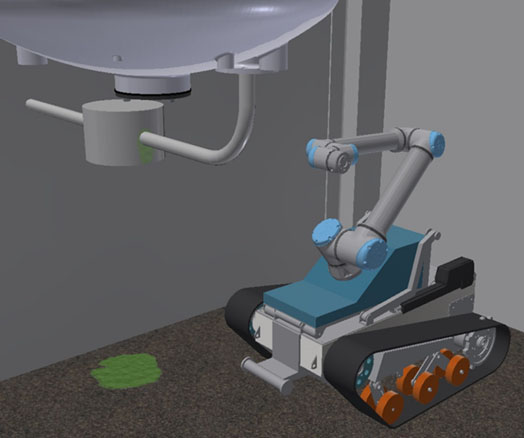 Q: Who are you collaborating with?
Wood has brought together a consortium of academic institutions, businesses and SMEs who draw on experiences from the medical, space and military sectors. These complement Wood's own expertise in radiology, chemistry, physics, material identification, human factors and mechanical/system/process engineering.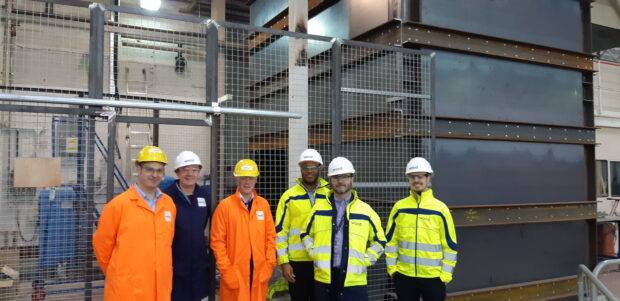 Our partners are:
Q: Why did you get involved in the IIND competition?
The competition was interesting in many ways but what really drew us in was the opportunity to innovate, which is at the core of our corporate vision, and to collaborate – this drives innovation. The clear pathway for the successful solution to be demonstrated in an active environment was also extremely compelling for us, while the availability of funding supported the internal case for us to invest our own resources.
Q: How is your project progressing?
It's at an exciting stage where we're confident it will achieve all our objectives and we very much look forward to putting the whole system through its paces at the demonstration event.
Q: What are the future opportunities for your project?
We see innovation as critical to successfully completing the UK's decommissioning mission, while at the same time, it creates new technologies, skills and builds a track record that can underpin exports and wealth creation, both in the nuclear sector and beyond.
The collaboration between large corporations like ourselves, universities and SMEs enhances the opportunities for wider commercialisation, and we recognise that there will be many opportunities to apply innovative technologies in decommissioning projects world-wide in order to make the process safer, faster and cheaper.
Find out what business advice and innovation funding are available:
Innovate UK, which is part of UK Research and Innovation, can support businesses to develop the potential of innovative ideas, helping to drive economic growth.
The Knowledge Transfer Network which helps businesses with new ideas and opportunities to link up with expertise, markets and finance through its network of businesses, universities, funders and investors.