Sweet selection of opportunities
As a nucleargraduate on the two-year training scheme, I've enjoyed many opportunities to engage with the wider nuclear industry, and my visit to the 2018 WM Symposia was definitely one of the highlights.
Now in its 44th year, the event is the largest of its kind in the world and this year there were more than 2,300 attendees from 33 countries.
The mammoth size of the convention centre made me feel like a kid in a candy store with tasty choices such as company exhibitions, robots, high-level business strategy talks and in-depth technical presentations, as well as enough time to network with a wide range of professionals.
This dwarfed my other conference experiences, and, to be honest, was a little overwhelming at first. However I was lucky to see some friendly faces from the NDA in the form of John Mathieson, Adrian Simper and Darrell Morris, in addition to some ex-nucleargraduates Rob Ward (now at REACT Engineering) and Hannah Paterson (Sellafield Ltd).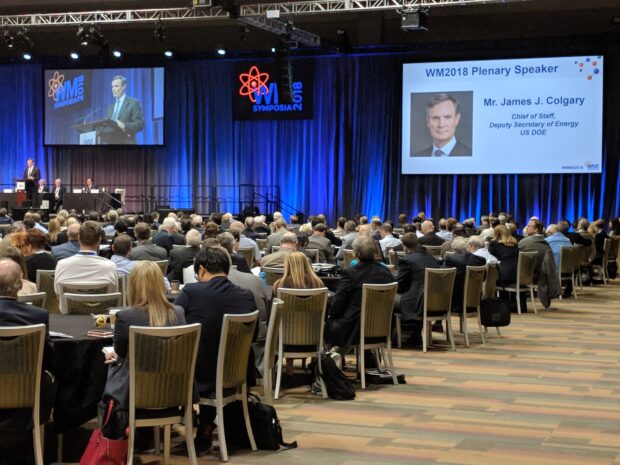 The US experience
I was intrigued to hear from US Deputy Secretary of Energy and Chief of Staff James Colgary, about nuclear's role in defence and national security. Having only been involved in the civil side of the industry, it made me reflect on some of Sellafield's older legacy facilities, which had their origins in plutonium production programmes, and the decommissioning and waste management challenges they present.
Nevertheless, it was promising to hear the continued high-level support for safely and effectively managing waste and decomissioning in the US.
Supporting young people
The WMS supports young people through scholarships, having provided over $2 million in educational initiatives. I was hugely humbled to be one of the recipients of the Roy G. Post Scholarship this year and took the opportunity to network with other scholarship winners, learning about their respective specialist areas.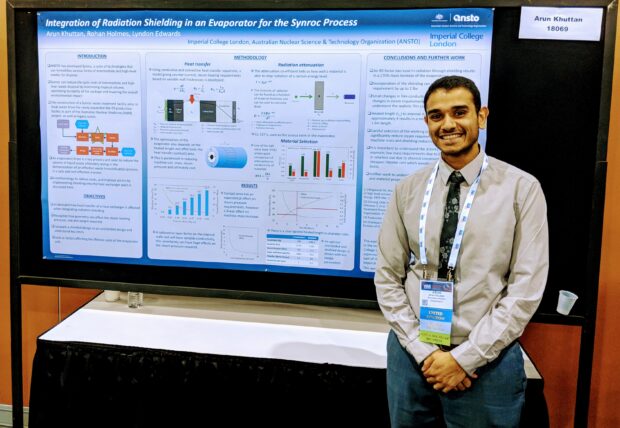 I also presented a poster on my MSc research project on the Synroc fuel disposal process that I did in collaboration with the Australian Science & Technology Organisation (ANSTO). Synroc is a waste treatment technology developed by ANSTO to immobilise various forms of intermediate- and high-level radioactive wastes in a ceramic or 'synthetic rock' wasteform suitable for disposal.
I was fortunate to catch up with former ANSTO colleagues at the conference and hear how my work with them had resulted in the construction of a successful evaporator system.
Unexpectedly, the afternoon also presented the chance for a political discussion with attendees of varying backgrounds – broadening my understanding of the US political system.
Model experience
A very relevant, and perhaps timely learning point, occurred after attending a panel session with Adrian Simper. The panel session, titled "Transition to Government Owned-Contractor Operated (Go-Co) Site at Canadian Nuclear Laboratories (CNL)" discussed how the Go-Co model is being adopted in Canada.
After the model change of Sellafield, essentially away from a Go-Co model, I was intrigued to learn that CNL (the contractor) believes its model will work due to a well understood site, along with a comprehensive forward plan for the next 10 years that isn't solely based around decommissioning and waste management.
The government arm, Atomic Energy of Canada Ltd (AECL), retains ownership, with CNL acting as the contractor managing several Canadian sites.
Participating in the poster session meant I was able to network with other young professionals, PhD students and post-docs, many of whom were from US universities. Most of their projects were funded through the US Office of Environmental Management (EM) and the Office for Nuclear Energy (NE) office for nuclear energy which sits inside the US Department of Energy (DoE). The office for nuclear energy co-ordinates funding with national labs, universities and private companies.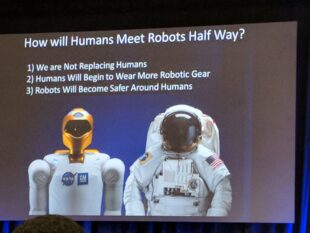 Research models
It was interesting to learn that the UK doesn't have an exact counterpart which acts as the focal point for research into nuclear energy, but directs funds through other groups such as the Engineering and Physical Sciences Research Council (EPSRC) and Innovate UK. It was quite an insight into how different models work.
The rest of the week provided detailed technical presentations, leadership and teamwork workshops as well as high-level panel sessions. The ability to walk around meeting the hundreds of exhibitors, often with state-of-the-art technology (robotics being a big theme of the week) meant there was something for everyone.
In the hope of reducing my environmental footprint, I collected as few business cards as possible, yet managed to grow my LinkedIn connections more than ever, so I'll end with this question: How much could you reduce your business footprint without truly impacting your business?