For more than 2 million people, the Sellafield Visitors' Centre was a school trip, somewhere to visit on a rainy day in the Lake District, and the place to go if you wanted to learn about nuclear.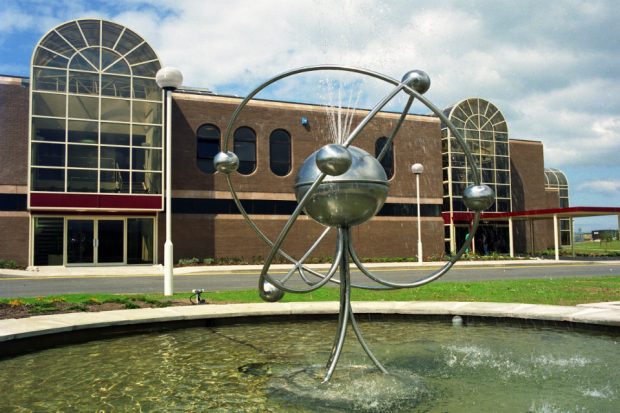 For me, the Centre was part of my (working) home and the manifestation of British Nuclear Fuels Ltd's (BNFL) desire to bring nuclear out of the shadows of secrecy with an open door policy. It is the place where nuclear was brought to life for people who wanted to know what we were doing behind the security fences at Sellafield.
As the final bricks of the Visitors' Centre are demolished I look back at:
Why the centre was created
How it engaged and educated
How it galvanised an open and transparent approach to communications that we still embrace in today's digital world
From secrecy to open door
Communications in the 80's and before that was all about managing reputation. Our opposition was on the ball.  Activists would go to great lengths to draw attention to their views of nuclear power, which as expected were not in keeping with our own.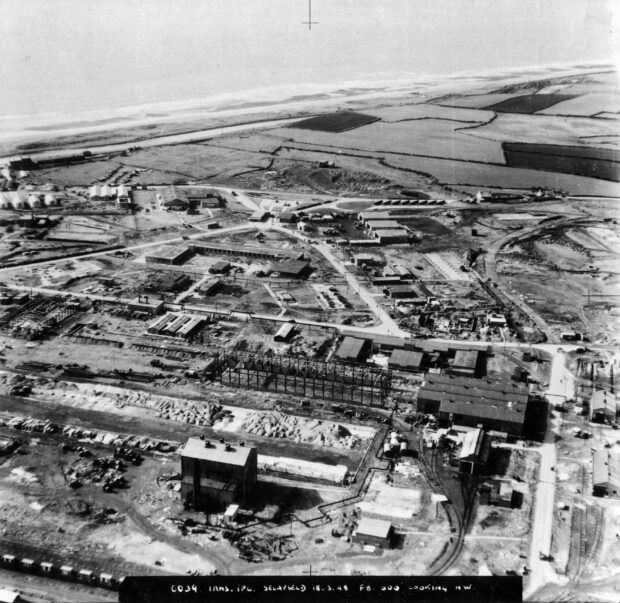 The 'Thong man' was one such activist, wandering around the county wearing nothing but a leather thong and a very enviable tan. He would be a social media sensation today.  He often wandered past our office windows, much to the amusement of its occupants.
In those days there was no appetite for BNFL, as we were known in those days, to embrace and publicise the work that we did on the site. Telling our nuclear story just wasn't on our radar at that time, even though it was a fascinating story to tell and still is. Our focus was on the construction of our Thermal Oxide Reprocessing Plant (Thorp) and getting it prepared for our new reprocessing mission.
Ironically, Thorp completed its last shear in November last year, bringing to an end our commercial reprocessing contracts.
The Sellafield Visitors' Centre at a cost of £5 million was BNFL's new window on the nuclear world, designed to take us into a new era of 'open and honest' communication – an open door to the public so they could see for themselves and question what we did behind those imposing gates.
No – I'm not an actress – it's my job
I remember the television advert that launched the Sellafield Visitors Centre and the iconic line from Enid Winter one of our Information Officers – "No, I'm not an actress, it's my job." To this day, Enid still lives locally and keeps in touch.
If you haven't seen it before, then watch the television advert for Sellafield Visitors' Centre – it's worth a look.
Royal connections
Over the years the Visitors' Centre has welcomed prime ministers, foreign dignitaries, customers, members of the public, school trips and more through its doors.
One of our most famous guests timed his appearance with my 21st birthday (a coincidence, I'm told). On 6 June 1988, His Royal Highness Prince Philip officially opened the Visitors' Centre.
He urged people to visit and make up their own minds about nuclear, saying "I don't think anybody can come to a reasonable judgement about nuclear power unless they know the case for both sides."
Spooky goings on
Education was at the heart of the exhibits; you could venture into the heart of a nuclear reactor, drop in on a Victorian "ghost" and experience an eye-opening demonstration of a 'fission reactor', animated displays around the room demonstrated the different types of radiation, something that still peaks the interest of many.  Pepper's Ghost featured in a Victorian music hall illusion, moving in front of a reactor model as a voice explained the various components. There was something for everyone, young and old alike.
Foot fall through the entrance tunnel was in the hundreds of thousands all coming to enjoy a family day out, my own feet paddled through many times.
BNFL on a global stage
All the best attractions need to move on. We'd had hundreds of thousands of visitors who had returned time and time again. It was time for the centre to move on, it needed modernising to reflect the company's changing position.
Neville Chamberlain, our Chief Executive at the time, explained our change in corporate identity. We needed to signal change, but not forget our past. He wanted to keep BNFL and build on all that the name stood for. A new corporate campaign and the updated centre would help achieve that.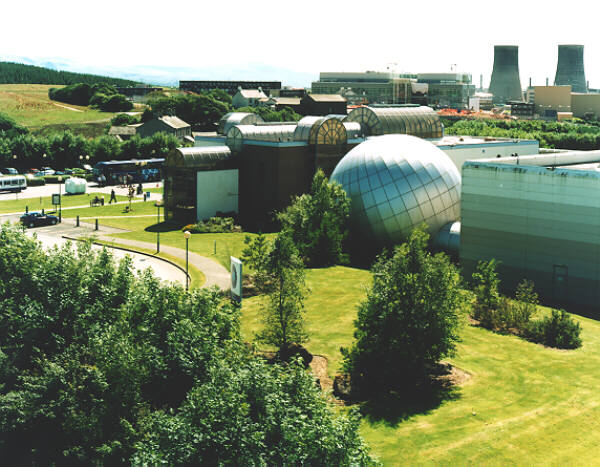 In 1995, 7 years after the Centre was opened. A multi–million pound refurbishment took place. It marked a whole new 90's corporate identity for BNFL and reflected our move from an almost wholly UK based business to a major player in the international nuclear services marketplace. Public acceptance played a huge part in this shift - in part because of the success of the Centre.
A mighty (atom) makeover
The 9-month long refurbishment catapulted the centre into the space age with a kaleidoscope of the latest computer technology, interactive science and spectacular laser shows designed to enthral people of all ages. We even featured the legendary 'Albert' in a challenging electronic nuclear quiz – Einstein chairs.
Who doesn't remember the 'Mighty Atom'? He was one of the centre's new helpers in the 'recyclorama', who rode overhead on a nuclear transport flask and introduced you to his atomic friends as he told the fascinating story of recycling spent fuel. I'm told a number of these cheeky chappies still exist as garden ornaments.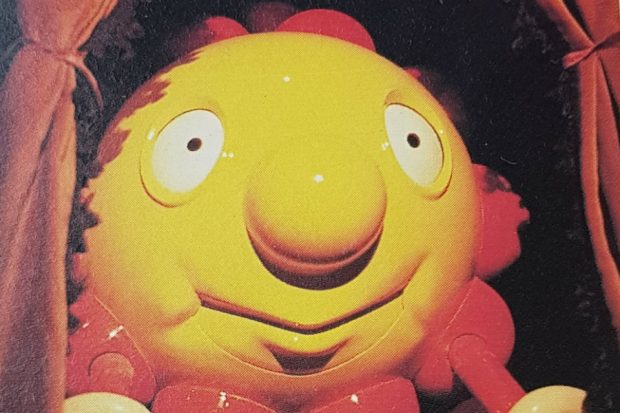 Travellers' rest - bed and breakfast anyone?
The centre boomed, and, as a publicly accessible shop window for Sellafield, it became a place that was used by anti-nuclear groups to express their side of the nuclear debate. Protests were frequently held in the grounds, and yes, the Thong man made many appearances.
Tents and campsites appeared to accommodate the renowned 'Peace Women'. It wasn't uncommon to see them partaking in a wash (I use the word loosely) or indulging in a spot of breakfast as part of your daily commute.
We even had a celebrity visit from U2's front-man Bono.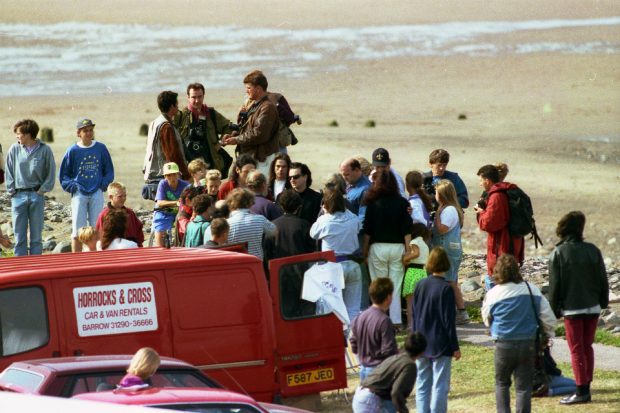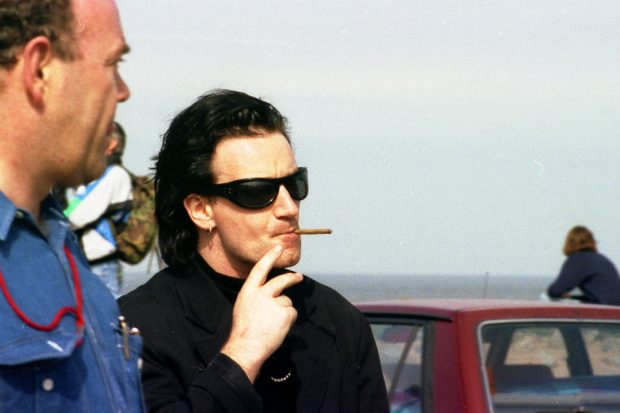 Dialogue began to improve during the early years of the Centre. We joined in at a national level, opening up the debate with like-minded people. We included our protestors and invited them to the table, although it was an invitation that was declined.
We're even more advanced today and regular dialogue is achieved through a number of fora, the NDA National Stakeholder Group, interaction with our political leaders, and for my part, as secretary of the forum that plays one of the biggest roles in that dialogue: the West Cumbria Sites Stakeholder Group has helped to stimulate and build engagement and still does today.
Just Wang it
I recall the early days working in communications at Sellafield. The Wang computer was all the rage in those days: a beast of a machine, akin to the space invader games you'd find in an amusement arcade. It occupied two-thirds of a desk with the printer sat alongside that had to be dismantled to print documents larger than the standard A4.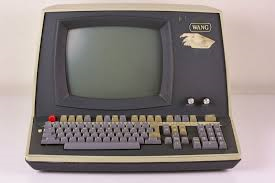 Not everyone used one, it wasn't until much later on that the privilege of having a computer all to yourself was extended to nearly every employee on the Sellafield site.
There were no fax machines or e-mails in those days. Dedicated car drivers would be called upon to transport documents wherever they needed to go.
We progressed to IBMs not long afterwards and fax machines – imagine being able to send documents without a car or driver! Times changed – and for the better.
The Centre did its job admirably. It achieved what it set out to achieve, it spear headed the beginning of the 'open door policy' in the 80s and moved us into a new corporate image in the 90s. Time moved on however, and the need for large public arenas to sell a message has to some extent been surpassed by the onset of the digital world.
A beacon of hope
Today, we have moved so far, communications has become almost too sophisticated for our own good. Information is instant, it's far reaching and opens up two-way communications in a way we could only dream of in 1988.  On my 21st birthday this sort of communication was literally a pipe dream. 
The Centre is going, but we still share our news with those that want to hear about it.
Watch our video showing the final chapter for the Sellafield Visitors Centre.
The Beacon museum has a floor dedicated to the Sellafield story, explaining the history of the site, the legacy it was left, the different waste streams, as well as some hands-on activities for the kids.
We have a presence on social media with Facebook, Instagram  and Twitter, we engage on a daily basis and tell our story worldwide.
We're happy to embrace our public, we do it without fear, we have nothing to hide, our story is there to tell and we tell it.
A trip down memory lane
I suspect that we will become even more advanced throughout the next 30 years and we'll have to re-think the way we engage, but for now, I will remember the Visitors' Centre fondly and continue to embrace a more sophisticated way of communicating.