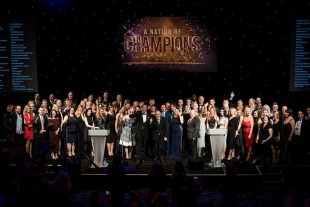 Last week was the highlight of the year for celebrating apprenticeships: the National Apprenticeship Awards 2016.
This year's awards were particularly significant in light of UK reforms that relate to apprenticeships.
The government has committed to creating 3 million apprentices by 2020. Various initiatives such as Apprenticeship Levy and the Public Sector Apprenticeship targets are designed to achieve this.
Apprenticeships in nuclear decommissioning
Sellafield Ltd demonstrated its continued commitment to training through its success at these awards. Adam Sharp picked up the national winner in the category of Advanced Apprenticeship.
As part of the ceremony the audience heard a few highlights about each applicant. While these were impressive, it's only when you see the detail behind the application and the process, that you realise just HOW remarkable apprenticeship schemes can be.
Judging the applications
This year, I was asked to chair the judging panel for these awards. The standard of applications was incredible, as in previous years. Our job was to select 1 winner and 2 highly commended entries from the 6 shortlisted by National Panels. There are 2 main categories: an employer award and individual apprentice awards. These are then broken down by size of organisation.
We saw apprentices who work in organisations with thousands of employees as well as organisations with only a handful. What is consistent, and in fact is one of the main judging criteria, is how important apprenticeships are for the business. They are integral to the organisation's workforce planning. Both organisations and individuals are committed to apprenticeships. How is demonstrated varies according to organisation size, but all winning entrants showed us the huge value of work-based technical education for improving the overall expertise of staff in their organisation.
The value of apprenticeships
At the Awards dinner, the Minister of State at the Department for Education, Robert Halfon, explained why apprenticeships are so valuable.
He pointed out that the UK ranked 16th out of 20 OECD countries for the proportion of people with technical qualifications. He went on to say that this shortage is affecting our nation's productivity. England are the only OECD country where 16-24 years olds are no more numerate and literate than 55-64 years olds, suggesting a stagnating education system.
So, in judging the awards and seeing the young people on stage, I was impressed to see what amazing talent is grown via apprenticeships, and what a difference this makes to the industries they work in.
Tell me what you think
So I left the very enjoyable evening considering what more our nuclear sector can do, and how we need to see apprenticeship levy and government targets as an opportunity to do more.
How can we use apprenticeships to help reskilling, upskilling and redeployment for instance?
Perhaps it's time to challenge our perceptions of what an apprenticeship is?