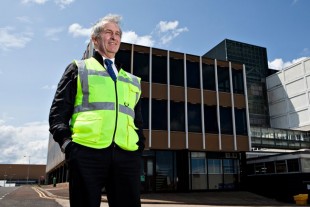 Saving millions of pounds in the process, our team had a brainwave to try using Blu-Tack attached to a long flexible pole, lowered down into the Prototype Fast Reactor (PFR) at Dounreay in the north of Scotland.
Our reactor decommissioning team needed the samples from the PFR reactor in order to check radiation levels.
During the planning phase, we were tasked with the manufacture of equipment capable of doing this in a radiological and hazardous environment.
Inspecting the depths of a former nuclear reactor with remotely controlled devices usually requires smart thinking and the manufacture of bespoke equipment.
However, our team opted for simplicity over a new design and build project. Thinking creatively, we attached some Blu-Tack to the end of a long flexible rod, which meandered almost 10 metres deep into the reactor core and picked up samples of the metal.
We are 60 years on from the decision to build the Prototype Fast Reactor and innovation has been the key to its success. There is a continual requirement for inventive methods to dismantle a complex nuclear reactor. The nature of the decommissioning work at Dounreay gives both our young and experienced engineers the opportunity to put their innovative skills and knowledge into practice.
I've worked at the site for many years and am proud to be sharing my knowledge with a team of Dounreay Site Restoration Ltd (DSRL) engineers to pass on my years of experience and expertise to a new generation of professionals who will be taking apart the reactor when the time comes.
Find out more about how we manage radioactive waste
Sign up to our e-bulletin to receive news on nuclear decommissioning