Warrington is one of the country's most successful towns in terms of jobs, economic performance and outlook, but it also has its challenges, none more so than the current Covid-19 pandemic that is having an impact on the local economy.
As Leader of Warrington Council, Russ Bowden has a key role in supporting the local community and economy and is conscious that more than ever he needs the support of all local stakeholders including businesses to drive forward initiatives to benefit the town.
I interviewed Russ to find out how he engages with businesses in Warrington, such as Sellafield Ltd, and how they play a big part in the town's prospects.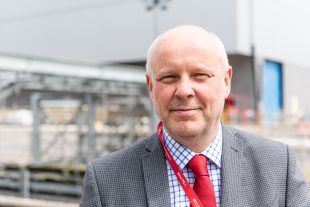 Is the Council Leader role a full-time job?
Being Council Leader is a full-time commitment, one that I'm passionate about and I'm very proud to live and work in the town. However, I do have another full-time role as a health, risk and safety consultant.
What's been the biggest challenge to date as Leader of the Council?
Undoubtably the pandemic. These past number of months have been extremely challenging for Warrington Council, similar to every other Council across the county.
Priority has been placed on support to the most vulnerable and aiding key services such as hospitals and care homes, and it's been amazing how everyone has come together, including businesses to support these priorities."
Do you have examples of companies support?
I regularly speak to local companies, and Sellafield Ltd and other nuclear organisations mainly based in the Birchwood area have been in regular contact offering volunteer support such as food collection and delivery.
They've also produced hundreds of 3D visors and mask retainers and made donations such as Sellafield Ltd covering the cost of a leaflet that's been distributed to 30,000 homes for the 'Safe and Well' scheme to help to protect the most vulnerable.
I'm fully aware of Sellafield Ltd as I worked in the nuclear industry in Warrington for many years and became the site nuclear safety officer at Sellafield in 1999.
I also visited the site last year and it was fascinating to see the decommissioning and clean up progress being made having not been to the site for a number of years.
I'm also conscious of the importance of the nuclear industry in Warrington and Cumbria, that support local jobs, develop skills and invest in the community.
With about 2,000 workers in Warrington that help drive the Sellafield mission, including the design engineering capability alongside a large supply chain, the company is a bit of a hidden gem in the town, and it quietly plays an important role in the community.
Are you aware of any initiatives that Sellafield and other companies have supported that have made a difference to the community?
Sellafield Ltd was one of the companies that helped to establish the University Technical College in Warrington through people's time as well as financial support.
The UTC focuses on engineering and Sellafield's support reflects its commitment to education, training and employment prospects for young people.
We were also delighted that the company became a founder patron of Warrington Youth Zone that is due to open in 2021.
This is another hugely important new building that's being constructed in the centre of town, to support our young people, with 3,500 current members of Warrington Youth Club transferring into the new build in 2021.
I'm also aware of many other causes that the company has supported over the past months such as St John Ambulance, Brainwave and Computers for Kids scheme and Warrington Food Pantry at a community centre in one of the most deprived areas of the town.
Do you see education as a key priority?
Absolutely, and it's crucial that local companies including Sellafield Ltd continue to recruit and train young people. I know they and other major local companies support vocational, apprentice and careers events at schools and in the workplace.
I've also witnessed first-hand community projects that benefit local schools, including last year's Sellafield project where 70 staff renovated the garden and classrooms at St Barnabas Primary School.
Do companies have a role to play in other economic recovery initiatives?
Absolutely, the pandemic is front and centre of our focus, and companies such as Sellafield are playing their part in the next phase as the local economy recovers.
Through the Local Resilience Forum, we are establishing new working groups to support our local economy, and the company has offered its expertise in a range of areas, whether it's further volunteer support or project management capability that we will tap into.
In conclusion, the economy needs everyone pulling together, and companies like Sellafield, who have been in our community for many decades, are key players in our future success.