Cavendish Nuclear, a wholly owned subsidiary of Babcock International Group, is a major supplier to the nuclear industry, offering wide-ranging specialist knowledge from design and build, through operations and maintenance, to decommissioning, waste management and remediation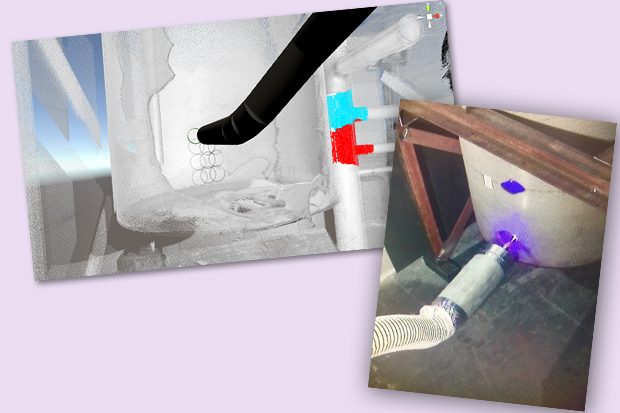 Q: Describe your project in a nutshell
Our pioneering technology will deliver decommissioning safer, faster and at lower cost. The In Cell Decommissioning System (IDS) combines established technologies in spatial and radiometric scanning, remote deployment and virtual reality (VR) control.
The 3 existing technologies we've brought together are the robotic laser-snake arm of OC Robotics, the RadScan® 3D gamma dose rate scanning technology of Cavendish Nuclear, and the Virtual Reality expertise of Babcock, creating remotely operated platform that protects workers from radiation while giving them much greater visibility of the hazards.
This will be a fully remote solution, needing fewer people and less equipment. It reduces the interface between machines and people, provides a detailed understanding of the environment using a VR interface and enables improved waste tracking and packing.
Our combination of technologies has been developed across different sectors of industry, and will bring a breakthrough in reducing risks to workers, increasing productivity, managing waste more efficiently, reducing timescales and overall costs.
Q: Why did you get involved in the IIND competition? 
Funding for innovation, from both internal and external sources, is vital to enable us to develop new concepts and ideas for transforming the way we traditionally work across the nuclear industry.
External funding helps organisations explore ideas, establish concepts, trial prototypes and speed up the development process. It helps bring more of these industry-changing innovations to market on much shorter timescales.
Innovation is incredibly important to our business. We focus on innovating to deliver effective solutions to the most challenging nuclear decommissioning projects safer, faster, at lower cost.
Our IDS will potentially transform how we decommission radioactive cells and other redundant facilities on different nuclear sites, both in the UK and abroad.  Its modular form means that it can be tailored to suit specific applications and adapted to use a range of deployment systems and tools.  We're actively promoting IDS to our clients across the nuclear industry.
Q: Who are you collaborating with?
We're partnered with OC Robotics of Bristol (supported by The Welding institute (TWI)).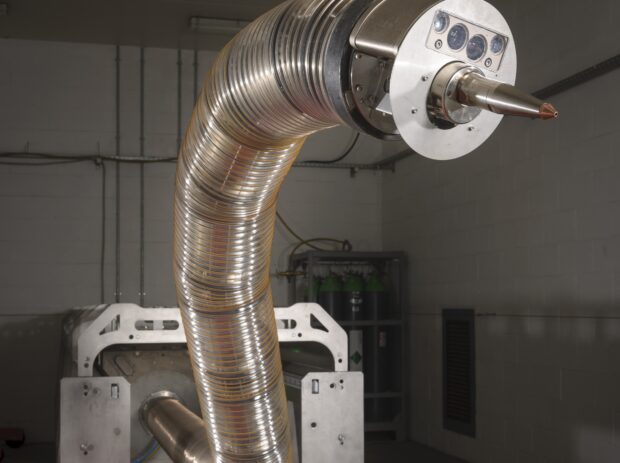 This project provided a platform for us to work alongside other organisations and people with diverse knowledge and skills, creating create something that's unique and otherwise unachievable.
We're also considering collaborations with other companies and technologies for the next phase of the IDS development.
Q: How is your project progressing?
We successfully carried out inactive trials and demonstrations in a non-radioactive environment at the end of last year. The demonstration at our Whetstone facility was witnessed by representatives from Innovate UK, NDA, BEIS and Sellafield Ltd.
The final challenge of demonstrating the system in decommissioning a redundant cell on a nuclear site is the next logical stage. It will provide an opportunity to develop a safety case for IDS, demonstrate how the technology can transform the way we decommission active cells and prove the benefits it offers.
A formal assessment of the demonstration is now expected with feedback in September 2019, ahead of the next phase of the competition involving more rigorous trials in a radioactive environment.  The project is on track in terms of programme and budget.
It was a challenge to successfully integrate a range of diverse technologies working under VR control and create a system that successfully performs during trials and an inactive demonstration, all within a 13-month timeframe. Achieving this is testament to the team's belief in the system and the collaborative, supportive approach across the partner organisations.
Q: What are the future opportunities for your project?
We're encouraged by our successes so far and the results from inactive trials and demonstrations.  We remain confident and enthusiastic about our Phase 3 proposition.
The customer demonstrations in December 2018 gave us the opportunity to showcase IDS and its potential wider application to many of our UK and international key clients.  This generated a great deal of interest in the technology, its development and its potential wider application.  We're currently following up business leads, with a view to further client demonstrations in 2019.
Initial feedback from our promotional activity has confirmed that the benefits of IDS appeal to organisations carrying out work in congested and hazardous environments. At Cavendish Nuclear and Babcock, we're currently working with client organisations in nuclear and defence sectors to identify opportunities on other sites where further development of the IDS modular VR control and remote deployment technologies could create systems tailored to suit specific applications for hazardous operations.
Clients have also expressed interest in the individual technologies used on IDS, such as spatial and radiometric scanning, VR control, snake arm deployment systems and laser cutting. Along with our partners, we're exploring new opportunities to use these technologies on other projects.
Find out what business advice and innovation funding are available:
Innovate UK, which is part of UK Research and Innovation, can support businesses to develop the potential of innovative ideas, helping to drive economic growth.
The Knowledge Transfer Network which helps businesses with new ideas and opportunities to link up with expertise, markets and finance through its network of businesses, universities, funders and investors.