Barrnon is a  Cumbrian SME providing bespoke innovative solutions to challenging environmental problems, primarily in nuclear decommissioning. Solutions include systems for sludge removal, fabrication of skip shielding and removing hard-heeled waste from the US Hanford site.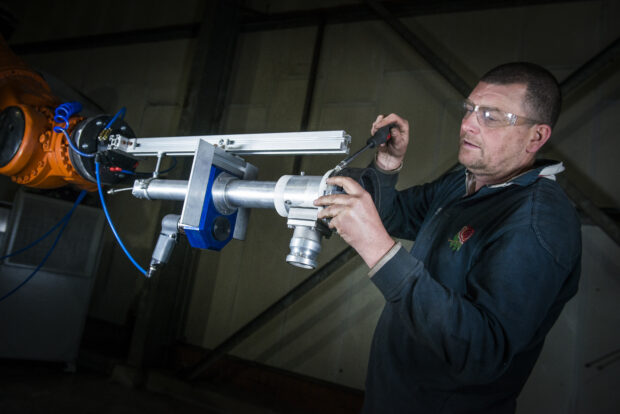 Q: Describe your project in a nutshell
Our project, the Barrnon Integrated Decommissioning System (BIDS), comprises a tracked platform hosting a pair of hydraulic arms, each with a robot at the end, deploying a range of tools that are able to characterise and dismantle equipment up to 5 metres away. It will provide a unique and fully integrated end-to-end decommissioning process for hostile environments, primarily in the nuclear industry, that will substantially reduce costs, operator risk and timescales.
Controlled remotely, the system is driven into the target area where a 360 degree scan is performed using the Light Detection and Ranging process, or LiDAR, (a measurement system using pulsed laser light) to locate surfaces, and gamma radiation sensing. This builds up a map of surface contamination inside the space.
Located at a safe distance, the operator can view the resulting 3D image in a Virtually Reality (VR) environment, effectively walking around, analysing the topology and inspecting the location of radiation hotspots. Remaining within the virtual control room, a hand-held scanner  can be used to scan a specific area for alpha and beta contamination. Advanced software algorithms are used to analyse the surface contamination data, resulting in a plan for the most efficient way to segregate and pack the waste. The operator can use an array of tools to decontaminate and dismantle the infrastructure, including laser cutting, circular saw, stud welding, sludge removal and blasting with liquid nitrogen.
Q: Why did you get involved in the IIND competition? 
The IIND competition provided an opportunity for us to perform exciting, innovative R&D that would otherwise be very difficult for us, as a small company, to fund due to the timescales that are involved and the risk of failure.
Innovation is at right the heart of our organisation. We take inspiration from both industry and nature in designing and developing creative solutions for challenging problems. This project has allowed us to develop the BIDS system, but with an inactive demonstration – which will take place later this year - we can showcase a range of our tools and technologies to leaders in the marketplace, with huge opportunities for future work.
Q: Who are you collaborating with?
We've partnered with industry leaders in a number of areas:
Our relationships were founded on shared experiences in the nuclear decommissioning sector and a shared desire to tackle these problems.
In addition to collaboration on this project, Barrnon recently won a £6 million Innovate UK competition: Robotics and AI: inspect, maintain and repair in extreme environments. This is a collaborative venture with partners who are the leaders in their sector across both industry and academia to develop self-building structures for deployment in harsh environments.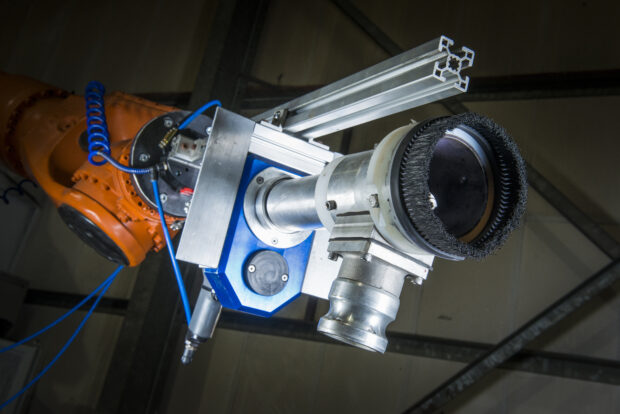 Q: How is your project progressing?
BIDS is now well advanced in the development phase and we're currently working to integrate all the components and system tests, building up to the final demonstration in September 2019.
There have been a number of technical challenges along the way, as you'd expect with complex research initiatives, but we've remained on track over the last year.
Q: What are the future opportunities for your project?
We're excited about delivering the final demonstration, but also about the level of interest that exists around BIDS. We have had existing clients wanting to understand how the system could benefit their decommissioning challenges around the world – and we fully intend to capitalise on this interest. The funding provides a springboard for us to market our latest product in the global market, and help us to grow.
Find out what business advice and innovation funding are available:
Innovate UK, which is part of UK Research and Innovation, can support businesses to develop the potential of innovative ideas, helping to drive economic growth.
The Knowledge Transfer Network which helps businesses with new ideas and opportunities to link up with expertise, markets and finance through its network of businesses, universities, funders and investors.