Createc, based in Cumbria, specialises in developing innovative applications of imaging technology, bridging the gap between academic research and industry. With around 30 employees, the company works in sectors including nuclear decommissioning, transport and energy infrastructure, defence and security.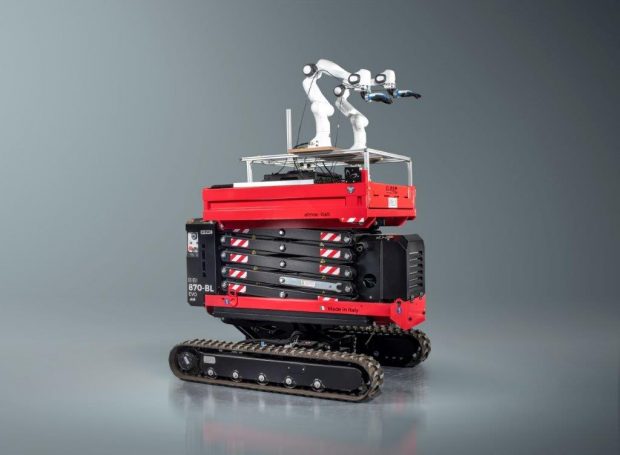 Q: Describe your project in a nutshell
Our project is called Elephants to Ants– rather than using huge demolition robots, our approach is to integrate a number of smaller robots in a flexible, dynamic way. We're exploring the potential of modular off-the-shelf units that can be rapidly and reliably reconfigured whenever unexpected challenges arise, as they always will. This will accelerate decommissioning and maximize re-use of technology across projects, sites and countries.
Q: Why did you get involved in the IIND competition? 
The competition was an incredible opportunity for us to step out of our comfort zone of nuclear sensing and imaging technology, and see what happens when some of our other ideas are taken into operations.
It's also a great opportunity to develop new collaborations and deepen existing relationships. The structure of the competition enables small businesses to meet and link up with each other as well as with much larger organisations – that worked really well. It already looks like some of these collaborations may transform the future of the business.
We've always been an innovation-focused company, and have a lot of very creative people here who are really motivated by applying emerging technology to the real world. This project is a little bit different for us, though, as it's less about using innovation to make new tools and more about exploring how we can apply that spirit of innovation directly to decommissioning. It's a huge topic and it's transforming the way we think of our own innovation.
The importance of real-world challenges for innovation can't be overstated, and this is one of the greatest brakes on innovation in nuclear: Every time you take a new technology out into the real world and actually use it, you learn things that no amount of simulation and mock-up testing will tell you.
Such innovation programmes, which will potentially link to demonstration in a radioactive environment at Sellafield is pretty unique, enabling testing in a realistic environment, and is incredibly beneficial to companies like Createc that want to drive decommissioning forward through better technology. It's hard to see any other way a project like Elephants to Ants could make the leap from inactive to active use.
Q: Who are you collaborating with?
The official partners are RACE, REACT Engineering, RED Engineering, StructureVision and OC Robotics.
Most of them were already known to Createc before the project, but we got to know others through the brokering events organised by NDA – these were particularly used for meeting other SMEs. We saw opportunities to accelerate our developments in gaps identified during the project by bringing in additional skills on robotics and VR, particularly from IIT in Italy . The collaboration with IIT could bring some phenomenal new capabilities to the project and to future business at Createc that we'd never have found if we hadn't embarked on this project; it's a great example of the unexpected benefits that can come from innovation.
Q: How is your project progressing?
So far the project has focused on component-level development and basic integrations. This work is largely completed and we're now really looking to bring together the full system integration, which is where the most exciting developments will happen.
Q: What are the future opportunities for your project?
We're really excited about the future. When we share the concepts and demonstrations, everyone really understands the potential this approach could have for nuclear. But at the same time, we recognize that there's a huge amount of work, not only on the technology itself, but also to prepare for really deploying it. We need answers to all kinds of issues on safety, security, skills & training and commercial models before this could truly be considered mature. Addressing these fundamental factors is just as important as the technology itself, and is something we intend to make significant progress with over the next 9 months.
One of the best things about the project so far has been the way the concept behind it has resonated with international partners and collaborators in the EU and Japan. Createc is a big advocate of sharing decommissioning needs internationally, to distribute the burden of development costs and the benefits of accelerating technology development; but so often, this is impeded by entrenched national development projects that regard oversees companies as competitors not collaborators. It feels like there's a lot of openness to international collaboration in robotics at the moment, and that's a good reason to be optimistic about the future.
Find out what business advice and innovation funding are available:
Innovate UK, which is part of UK Research and Innovation, can support businesses to develop the potential of innovative ideas, helping to drive economic growth.
The Knowledge Transfer Network which helps businesses with new ideas and opportunities to link up with expertise, markets and finance through its network of businesses, universities, funders and investors.