Decommissioning in action
We launched the competition at the start of 2017, working with Innovate UK to invite proposals, hoping to secure interest from our established suppliers and also from other industrial sectors in the UK and beyond.
We've worked collaboratively with Innovate UK for a number of years, and jointly funded innovation projects for technologies that could help us achieve the mission safer, faster and cheaper. Some have been very early stage, while others are now being deployed both at our own sites and elsewhere, including at Fukushima. So we know there is both the need and a supply of ideas that need support to come to fruition.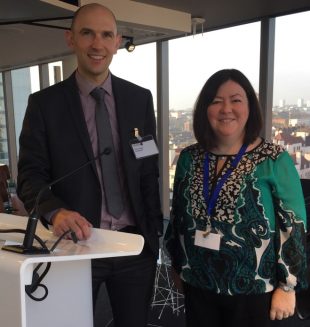 Earlier collaborative competitions have looked at proposals across the whole nuclear sector, but this time we've taken the lead in focussing solely on decommissioning and have worked closely with Chris Hope from Sellafield, where the technology could eventually be deployed.
It's a great example of how NDA can make a difference in line with our strategic role. So we're really pleased that it's attracted a good, diverse level of responses and some exciting concepts that will now move from the drawing board to the prototype stage.
In fact, the response was so fantastic we were able to secure additional funding from Innovate UK and BEIS to bring the funding available for this competition to up to £8.5 million, making this a great opportunity for us to create the space for innovation to thrive.
I'm also thrilled to see so many organisations working with each other to combine their individual technologies into a system that has the potential to tackle some of the challenges we'll face as we begin taking many of our ageing nuclear facilities apart, especially at Sellafield.
Do we know what's inside?
These facilities are highly radioactive, we often don't fully know exactly what's inside, how best to open them up safely or remove the waste. That's one of the issues we constantly face with structures built so many decades ago: no-one gave much thought to how they would be dismantled and, often, no-one has done it before. This makes it challenging and also ideal for innovation.
That's why R&D and innovation are so vital to make sure we have the best solutions. Innovation can either be novel technologies and ideas or existing ideas applied in a novel way - and we need both.
Listening to feedback

We've also listened to feedback from the supply chain to make this competition attractive to participate in. For this latest competition, the projects are, for the first time, fully funded.
Without the requirement to bring match funding, it means that even smaller businesses will have greater freedom to experiment boldly and really test their creativity.
We've also removed restrictions on intellectual property to give innovators freedom so that the technologies developed could be used in any hazardous environment, even if they aren't quite the perfect solution for one of our sites right now.
Everyone's a winner
Ultimately, everyone is a winner and we're really hopeful that the benefits will be felt across the wider UK economy as well as in helping us progress the mission safer, faster and cheaper.
It has marked an evolution in our approach from a few years ago when we began collaborating with Innovate UK. This enabled the investment of funds, not just from our own R&D budget but also from the larger pool of government support for research initiatives that help to boost the overall economy.
This could bring about a step-change in decommissioning approaches and I'm excited to see it develop over the next few months.
Read more
Read about the winning projects