For many years, the nuclear industry has used robots to reduce the need for sending workers into hazardous areas.
Recent improvements have seen robots crawling, flying, swimming and even slithering over our sites, helping us to decommission the UK's civil nuclear legacy safer, faster and cheaper. These improvements have been driven by rapid advancements in many industries, not just nuclear.
Over the last few years we've been working closely with our sites to ensure the nuclear decommissioning opportunities are highlighted, that robots are developed against our challenges and finally demonstrated in radioactive environments.
We've reviewed our Robotics and Artificial Intelligence (RAI) R&D strategy and identified Sellafield Ltd as our lead site but with key contributions from National Nuclear Laboratory, UKAEA's Remote Applications in Challenging Environments (RACE) and the wider supply chain.
We've funded a number of supply chain robotic development projects through our collaboration with Innovate UK, including our recent call on Integrated Innovation in Nuclear Decommissioning (IIND). We're also helping to promote their robots for a safer world challenge calls and already seeing some interesting technology being developed.
We're engaging with academia through the two nuclear academic hubs funded through the Government's Industrial Strategy Challenge Fund. Both the 'Robotics and Artificial Intelligence in Nuclear' (RAIN) and 'National Centre for Nuclear Robotics' (NCNR) academic hubs involve world-leading academics from across the UK.
We're also engaging internationally to both bring in knowledge from abroad but also highlight the robotic technologies being developed in the UK. Next week in Cumbria, we'll be hosting world-leading experts from the University of Tokyo. A great opportunity to showcase some of the developments being developed by local companies and demonstrated at Sellafield.
Overall it's an exciting time to be involved in applying robotics systems to nuclear decommissioning!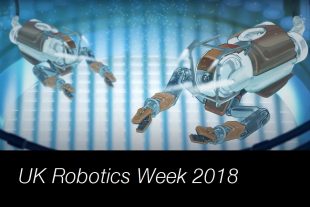 Collaboration Hubs supported by the NDA:
UK Robotics Week 2018
Find out more about UK Robotics Week
Find out more on Twitter: #UKRoboticsWeek and #IndustrialStrategy