When Andy Sharples took on the role of projects director for Sellafield Ltd in summer 2021, he knew one thing – that he wanted to change people's perceptions of the work carried out at Sellafield.
Sellafield Ltd, the company that operates the biggest nuclear site in Britain on behalf of our owners the Nuclear Decommissioning Authority (NDA), and is home to some of the most important major projects in the country.

We're building the infrastructure we need to create a clean and safe environment for future generations," Andy explained.

Our work is huge in scale and scope, and designed to leave a lasting legacy across the supply chain and in our communities. But do people know about it? No, I don't think they do. I want to change that.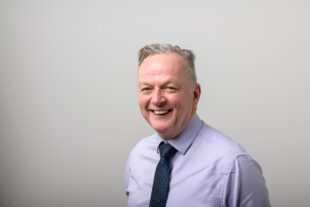 We're set on becoming exemplars in project delivery
Over recent years we have shown our wish to be an exemplar in project delivery.

We have designed and introduced an industry-leading framework to deliver our projects, the Programme and Project Partners, which sets out a clear 20-year plan.

The Programme and Project Partners is nearing the 3rd anniversary of its launch, and it has already enabled us to radically alter the skyline of the Sellafield site.

I was last here as part of a project in 2015, and my first visit as director this summer just blew me away. The site has changed out of all recognition in that short amount of time.
Our projects pipeline is huge and varied
Sellafield is a complex site with numerous challenges – which means the infrastructure needed to deliver it is equally varied.

Projects in our pipeline include plants to retreat our waste, buildings to safely store our inventory for decades, effluent treatment plants, and new laboratories – and this is just the tip of the iceberg. Our infrastructure delivery portfolio offers long-term, exciting opportunities for project professionals.

Which leads us to…
We are going to be here for a while
The work we are doing at Sellafield to create a clean and safe environment for future generations will take decades to accomplish.

The work happening now through our Programme and Project Partners framework is just 2 years into a 20-year plan. It means that the opportunities we are offering are long-lasting.
We offer world-beating training and opportunities
To do the work we plan to do, we need the best people. We have known this for a while and so we worked with the University of Cumbria to set up our own Project Academy to develop the projects professionals of the future.

The opportunities we are offering are huge – delivering projects at this scale and complexity offers the people working on them the chance to learn skills they would not pick up anywhere else.

Through the Programme and Project Partners we've established an intern programme and have brought in graduates and apprentices across all pieces of work being delivered by our partners. There were 383 people brought in through the partnership alone during its 2nd year.
We have the profile and the relationships
Working at Sellafield means working closely with some of the best organisations in the world, organisations we handpicked to help us create a clean and safe environment for future generations – including big names like Morgan Sindall, Jacobs, KBR and Doosan Babcock, not to mention our wider supply chain.

The opportunities these relationships offer for the right people mean the sky's the limit.

What's more, we're seeing our reputation go from strength to strength - the government's Infrastructure and Projects Authority recently featured the Programme and Project Partners among its good practice case studies in a requirements module and organisational design and development module, demonstrating the partners position as an industry exemplar of collaboration and organisational development through effective behaviours.
We're actually making a difference
One of the things which brought me to Sellafield Ltd was the organisation's commitment to its communities. Positive social impact is baked into everything we do – so as well as the obvious good Sellafield Ltd and the supply chain are doing to leave a positive legacy and create a clean and safe environment for future generations, we are also making a difference right now in West Cumbria and Warrington.

There's also the difference good project delivery can bring through the Programme and Project Partners approach to project delivery, with its transparent approach in forming project schedules coupled with engaging with the supply chain, is designed to give confidence that our schedule predictions are realistic.

The innovation and ideas we need have to start somewhere – and they could come from you.
We're offering you the Lake District on your doorstep
People seem to forget exactly where Sellafield is – within easy reach of one of the most beautiful places in the world. To me, this is a huge benefit and something people really should consider when thinking about a career in projects delivery.

To have the opportunity to work across a portfolio of the most exciting projects in the UK, delivering real change, in a place like West Cumbria…I don't think I need to say anything else!