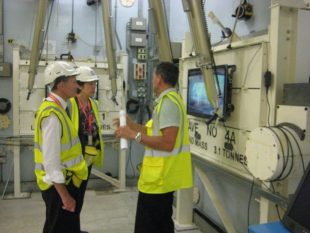 Site Assessment Group leader David Edwards explains how his team of multi-disciplinary specialists has been carrying out in-depth scrutiny of on-the-ground decommissioning work at some of the earliest nuclear sites as well as the latest nuclear archive project. The group aims to build a comprehensive understanding of progress to support NDA teams that are based off site. 
Small team – big focus
Our NDA teams tend to work remotely from the sites and are relatively small in relation to the large amount work we're responsible for contractually.
So, as part of the NDA's commitment to continuously challenge and improve our approach, we've set up a five-strong group to focus exclusively on developing a much more detailed understanding of progress. This builds on our existing structures to monitor performance, but goes much further.
We're now part-way through a 12-month programme of visits around 14 sites and are really getting to grips with the detail of what's happening.
Spending taxpayers' money with care
The NDA authorises the release of millions of pounds of taxpayers' money every year, and this is tied closely to the performance of the Site Licence Companies (SLCs) that operate the sites. It's vital that we release this funding based on real, demonstrable progress. We can't be on every site every day, so the rolling visits enable us to build confidence in the activities that are reported to us by the sites.
My group's remit is Dounreay, the 12 Magnox sites and the NDA's archive in Wick. We're working closely with the management at each site to agree topics and build a clear picture of progress. Our joint aim is to pinpoint and address any concerns, ensure reports reflect the situation accurately and also to refine details of the waste quantities that need to be segregated, treated and disposed of.
The Magnox and Dounreay sites are working to meet the decommissioning requirements set out in the cost-focused contracts we awarded in 2012 and 2014. Their plans are in line with agreed milestones and performance incentives.
In-depth understanding and accuracy are vital
To fulfil the contracts, we need the reporting to be both detailed and accurate. So it's vital that we and the Site Licence Companies (SLCs) base our assessments on in-depth understanding and agreement.
Before the visits, we agree areas of focus with the site, check out any supporting information and suggest topics for detailed inspection. We use our detailed follow-up reports to share learning and improve delivery where appropriate.  In all, the process for each site takes around 3 weeks, so it is fairly intensive.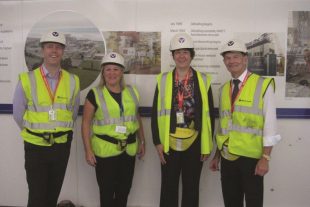 Everyone in the team is an experienced professional with different specialisms. After starting with Berkeley in Gloucestershire, we've now covered Dungeness A in Kent, Hinkley Point A in Somerset, Hunterston A in Ayrshire, Wylfa in Anglesey and Bradwell in Essex.
A dedicated team like ours means we can really get to grips with the decommissioning progress on the ground, where it's happening. This in turn gives us far more confidence in SLC reporting and forecasts.
We're confident that by working in conjunction with the SLC, these site assessments will add value to the NDA, Magnox Ltd and Dounreay Site Restoration Ltd, supporting progress and improving performance.
See our plans and reports on priorities and progress for more information on nuclear decommissioning
Sign up to our e-bulletin to find out more about progress and performance