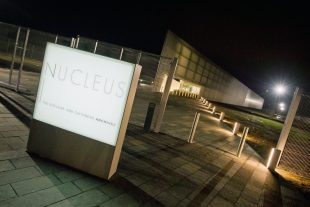 Finally, after working on the archive project for at least 11 years, I felt hugely proud and immensely thrilled to see the doors open for business at the Nucleus archive in Wick, Caithness.
Nucleus allows us to bring together valuable records from all over the UK in one safe, secure location. It will ensure these records are managed expertly and preserved into the future as more and more sites, like Dounreay, reach the end of decommissioning and begin to close down.
Location of Nucleus in the north of Scotland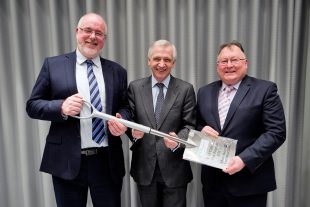 Our decision to locate it in Wick, near Dounreay, was a response to local stakeholders who approached us years ago, when they first heard we were considering an archive. We were happy to respond – it enabled us to honour our responsibilities to help offset the inevitable economic impact of decommissioning sites that were once major regional employers.
It's hard to believe that it's just over a year since we held the turf-cutting event on an empty construction site, using a shiny new ceremonial spade. We asked Dounreay Stakeholder Group Chairman David Flear to perform the ceremony because he'd helped broker the original partnership with Highland Council that brought Nucleus to Wick and ensured a long-term home for the important Caithness Archive collection.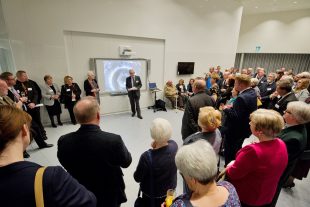 I was pleased to greet the many local stakeholders who joined us for a get-together the evening before the opening. Stephen Henwood and others reflected on its importance for the UK nuclear industry and for the region, who have hosted the country's only fast breeder reactors and whose historic public records are also housed in Nucleus under an agreement with Highland Council.
We hope to see many of them again when we hold an official opening ceremony later in the year!
Solving the challenge of managing information
Nucleus will provide a number of solutions to the challenges being faced across our estate. Two of the most notable are storing:
waste records associated with long-term storage and disposal in a Geological Disposal Facility, when developed
documentation to support future site clearance, subsequently making it available in accordance with legislation
Records management, like all the other work across our estate, is subject to regulation and scrutiny. As owner of all the information in our estate, we have a responsibility to ensure it is preserved and made available in line with the obligations placed on us on behalf of government.
'Information' covers a wide range of material, ranging from archived operational records and plant designs to graphics, photographs, publications, digital records, patents, research documents, workforce expertise.
Nucleus is part of a much wider Information Governance Programme (IGP), which has been under way and gathering pace for at least 3 years. Under IGP, we are developing projects to:
safeguard sensitive material
retain records
share knowledge that supports decommissioning activities
ensure access and agreeing systems for managing the information in both digital and hard-copy formats – while keeping it useable – well into the future