National Apprentice Week is always a fantastic opportunity to celebrate the achievements of our generations of apprentices at Sellafield Ltd.
Part of this year's campaign is #askanapprentice, so we sat down with Project Management Apprentice, Ashleigh Williams, to find out what it is really like to become a Sellafield Ltd apprentice.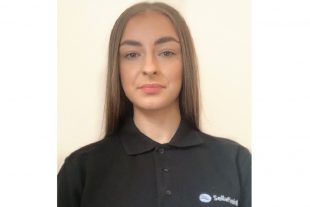 How did you become a Sellafield Ltd apprentice?
I joined Sellafield Ltd in 2018 on the Project Management Degree Apprenticeship. I always had an interest in business studies and economics which I studied at A level, these A levels included some project management modules which is where I realised it was a career I would be interested in.
I applied to university to study business and economics as well as for the degree apprenticeship at Sellafield Ltd. I was offered both opportunities and chose to enrol on an apprenticeship at Sellafield Ltd due to the amazing opportunities both academically and practically.
The application process was more challenging than university, starting off with an application to Gen2. This application was quite simple where I stated hobbies, interests, work experience and a personal statement about myself and my interests in the course.
I then had to complete an aptitude test which I'd never had any experience of doing before. This involved various different questions in differing categories, this had to be passed prior to being able to move stages.
I was then shortlisted for Sellafield Ltd and had to attend a 3 hour assessment where I was assessed on communication and team work through various tasks such as presentations and practical tasks. One week after this, I was asked to attend an interview which consisted of completing a portfolio and a presentation.
The most challenging part of the applications process I would say was the interview. This was due to the fact it was my first interview I'd ever had and didn't know what to expect, I was as prepared as I could be and researched a lot before attending my interview.
What does a typical day or week as a Sellafield Ltd apprentice look like?
A typical week as a Project Management Apprentice is attending your placement, we move placements every 6 months to gain experience in disciplines such as; cost, planning, risk, project management and construction, pre-operations and commissioning.
Moving every 6 months makes sure that we have a thorough understanding of each discipline to make sure we can be as competent as we can once completing the apprenticeship.
Tasks vary daily depending on the project and discipline you are in. As well as attending work, we also attend University of Cumbria once a week which is now online, however, prior to the pandemic was undertaken at Carlisle.
What impact has COVID-19 had on your apprenticeship training or experience?
COVID-19 has impacted my training slightly, however the business has made sure that we can work effectively and efficiently from home through improved remote network access as well as making sure we have the correct equipment (monitors, chairs etc) so we can work from home comfortably.
Managers also make sure that we are in placements where we're able to work effectively from home, minimising the impact of COVID-19. We have daily meetings with placement as well as weekly meetings with our scheme managers to see if we are managing at home and to offer support if and when needed.
Although currently we cannot get 'hands on' experience due to the national lockdown, we have had opportunities over the last 12 months to go into the office certain days of the week and to go on project walkdowns when safe and appropriate to do so, allowing the same opportunities given pre-covid.
What is the best thing you've done so far?
Throughout my apprenticeship, I've had countless opportunities right across the business. Some apprenticeships give a high predictability of activities which will be undertaken throughout the course.
Apprenticeships at Sellafield Ltd offer so many amazing opportunities that aid both professional and personal development.
For example, in the last 12 months, I've had the opportunity to sit with peers from across the local area as part of a youth panel, helping to decide who should receive grants under the Transforming West Cumbria programme.
Experiences like this, allowing collaborative working with so many different people as well as being trusted to make life changing decisions, are invaluable.
What advice would you give to someone considering doing an apprenticeship with Sellafield Ltd?
My advice for anyone wishing to apply for an apprenticeship is to go for it! The amount of support and guidance given is immense and it will give you an opportunity of a lifetime.
The mixture of learning on the job as well as academically has provided me with a strong foundation to start my career off, which I wouldn't have got from a degree alone.
The organisation always strives to make sure we have the best education and support and offers many additional courses to just the degree, which helps us to understand project management in various other industries and sectors, not just Sellafield Ltd.
The opportunities and experiences I've had over the last 3 years have been amazing with some being once in a lifetime opportunities!