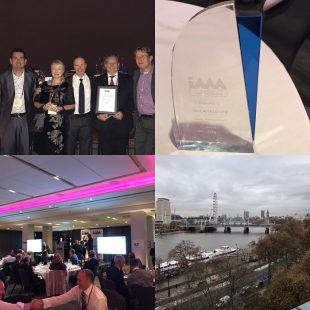 A fun board game about asset management may sound pretty much like a contradiction.
Synergy however, is a board game where teams spend Sellafield-minted money, worth £millions, on a range of facilities and infrastructure for the Sellafield nuclear site in Cumbria.
Synergy was nominated for an award at the recent World Nuclear Exhibition in Paris, where, along with Russia's Rosatom, it was second placed after EDF in the Knowledge Management category. The game then went on to win an international innovation award from the Institute of Asset Management.
Unlike some traditional board games, the goal of Synergy is not to amass a fortune but to invest with care, weighing up risks against possible performance improvements.
The importance of team work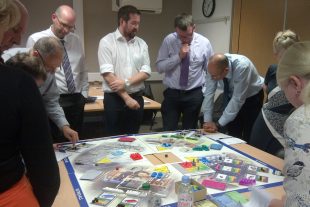 Teamwork is an integral part of the game. Players quickly realise that they need increasing levels of collaboration to play successfully. In other words, they must take a pragmatic approach based on sound Asset Management (AM) principles and value optimisation.
Asset management can be rather a dry, abstract subject for many people, often difficult to understand. But it is critical that the estate's assets – buildings, infrastructure, IT systems, equipment, vehicles and much more – are maintained cost-effectively and to a level that is appropriate for their present and future function.
Is it, for example, sensible to spend large amounts of money on buildings that are ultimately scheduled for demolition? The answer is that it depends on a wide range of factors linked to its current condition, hazards, performance, risks, opportunistic reuse and more.
Asset managers need to understand all the issues but critically, so do many other members of the workforce who are involved in decision-making.
Designing the game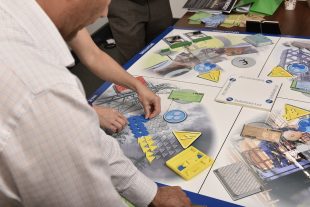 Synergy was designed for Sellafield by Vulcain Engineering Ltd, supported by its strategic partner Oxand, and is based on one of their existing business board games. Synergy is used in workshops that aim to develop asset management understanding. The NDA has supported the development of the game where Sellafield Ltd was not only the customer but was actively involved in the design and development process.
Vulcain Engineering Principal Consultant, Simon Spencer, an asset management specialist who previously worked at Sellafield, led the project.
The question is how do you make the fundamentals of asset management interesting and enjoyable to learn? In a PowerPoint presentation, on average you will only take in about 6% of the information on the screen; in a face-to-face conversation, it's about 20%, but with a simulation or an activity based tool like this, it's will be up to 75%.
Oxand's existing AM board game wasn't created for the nuclear industry or for Sellafield, so we adapted it to better reflect the operational challenges and decision-making processes of a live site. It is about ensuring that an understanding of the reality of managing assets is embedded across all levels of the workforce.
Synergy brings to life the processes needed for:
anticipating problems
allocating the right budget
reducing costs where possible
understanding the impact on performance
collaborative and integrated working
compromises
Interestingly, there's no winner in Synergy, but there is the satisfaction of a job well done.
Find out more