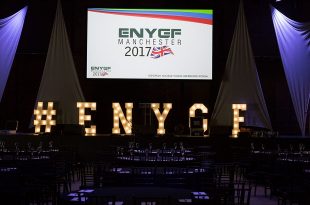 Smart, talented young people from 25 different countries enjoyed a whole week of site visits, discussions and presentations at the European Nuclear Young Generation Forum (ENYGF)...and I was thrilled to be part of it.
We were several hundred in number, exploring the main theme of Innovation in Nuclear at all the week's events.  What became clear was how diverse we are, in terms of technology, people and cultures;  many of the presentations spoke of new, novel reactor types, challenges faced across the industry and how a new mind-set is required to solve them.
Collaboration, communication and co-operation
Central to all activities was a drive to share ideas, ask questions and work together – something which can be successfully applied in any field. The event brought together a wide spread of people with different experiences and ideas, including delegates from industry, the supply chain and academia.
The week, based at Manchester's Victoria Warehouse, saw presentations from international speakers across a range of topics, workshops on realistic problems and topical matters, day visits to 14 different UK sites and numerous networking events.
For myself, it was great to catch up with familiar faces and the new relationships that I made will undoubtedly prove invaluable. We were reminded by some presenters that the people attending will go on to be future leaders, despite just beginning our careers right now.
Innovation in nuclear: a rich heritage and a bright future
It was a good reminder to myself of why I joined the nuclear industry. Many  of the speakers noted that nuclear is both an exciting field and very relevant in today's world. There were many pioneering technologies that we looked at, but Small Modular Reactors, Molten Salt Reactors and robotics were highlighted as good examples of how nuclear is an evolutionary field.
The young generation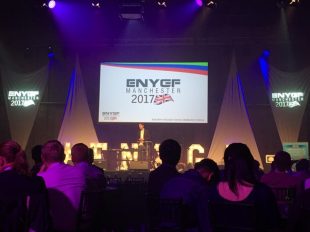 With an industry-wide skills shortage – exacerbated by new build – I realised that revitalisation is needed.
Events such as ENYGF are great for bringing together young minds to share ideas and meet colleagues who might face similar challenges in a totally different area.
So what can we do, as a young generation, to make a difference?
How can we ensure that our voices are really heard by decision-makers?
I don't doubt that everyone choosing a nuclear career does so in the knowledge that it's simultaneously one of the biggest challenges and one of the most important factors in our future. The advice heavily impressed on us was to take every opportunity for self-development; don't be afraid to challenge the norm in trying something innovative; and keep expanding circles of influence through networking and volunteering.
NDA-sponsored nuclear graduate Arun Khuttan added:
Seeing the talent of people at ENYGF was promising for the future of nuclear. But there is definitely space for more! Talks, panel sessions and workshops were extraordinarily inspiring as they demonstrated not only company commitments to research and development, but how committed organisations are to develop the skills of people working for them. People truly sat at the heart of some of these businesses, and it only reinforced the message that I've learnt during my time at the NDA: Without good people you cannot have good business!

The atmosphere was vibrant and I left with a wallet full of business cards, a brain full of information and a heart full of hope, excited to see what opportunities lie ahead for the next generation of industry specialists.
Join the Nuclear Institute's Young Generation Network (YGN)

The Nuclear Institute Young Generation Network is an ever-expanding group of young nuclear professionals and enthusiasts.

YGN provides a platform for networking, education and career development. This is achieved through professional seminars, networking events, industrial tours and much more...