I am a Senior Design Engineer for Dounreay Site Restoration Ltd (DSRL) with more than 50 years' knowledge of the Dounreay site. Now, I'm using my expertise to help build a range of unique devices that can probe the depths of the redundant Prototype Fast Reactor (PFR).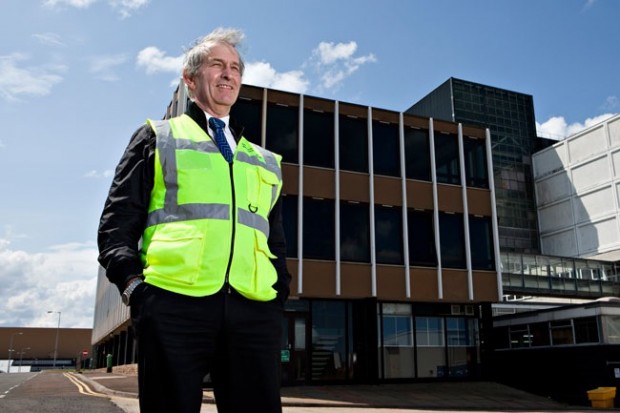 I started my apprenticeship in the 1960s and worked on the Dounreay site before PFR was built. Now, I am part of the site's in-house design team responsible for safely dismantling the reactor.
A considerable amount of innovation was required to build the Prototype Fast Reactor, and there will be a continual requirement for pioneering methods to take a reactor of this complexity apart. This type of work gives both our young and experienced engineers the opportunity to put their innovative skills and knowledge into practice.
See this DounreayTV YouTube video on PFR decommissioning work which dates from 2010:
My team has developed a series of robotic tools which will allow the removal of hundreds of components from the reactor vessel. A total of 8 multi-purpose grabbing, cutting, slicing and lifting tools are being designed and tested to pull out the core of the redundant fast reactor.
All the tools have in-built cameras fitted and are designed to operate within an extremely hazardous environment to allow safe remote operation, including plunging over 10 metres into the centre of the core to cut and remove components.
I am sharing my knowledge with a team of DSRL engineers to pass on my expertise to a new generation of design professionals who will be taking the reactor apart when the time comes. These engineers are demonstrating huge potential and will be at the forefront of the final stages of the PFR reactor dismantling programme.
The reactor dismantling project is critical to the decommissioning of PFR. We need to use lateral thinking and unique ideas to design and build the necessary equipment to safely take apart the plant and remove the reactor vessel. The design of purpose-built equipment like this is a credit to all DSRL staff and contractors involved.
Support for apprenticeships and innovation
For the younger generation who are interested in following in Calder's footsteps, find out more about the types of apprenticeships that you can apply for in the nuclear sector.
For organisations interested in innovation in this area, see the guidance for business and academic organisations on how to get advice and support to test and develop innovative products and services.