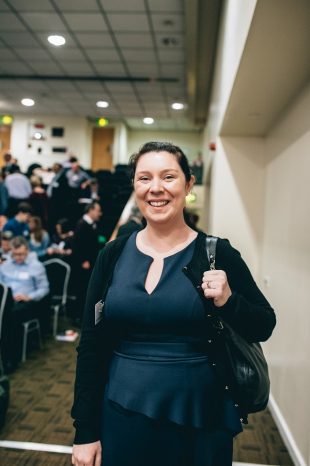 Last month, I co-hosted the 5th NDA PhD Bursary Seminar at the Pendulum hotel in Manchester. It was a day where students were eager to share their knowledge and everyone wanted to learn more from each other.
Sponsorship of research and development work is an important part of our ongoing strategy to ensure there is a strong capability to address our present and future challenges.
Gathering knowledge in one room
This seminar brings together all of the NDA's directly funded PhD students. They are all at different stages in their studies and this event gives them the opportunity to showcase their work to a wider audience made up of technical leads from the NDA and its estate, academic specialists in decommissioning-related topics, a range of supply chain companies and this year we also welcomed representatives from our sponsoring department, Department of Business, Energy and Industrial Strategy (BEIS) and the MoD.
The day was all about sharing knowledge and helping to maintain a community and capability that focusses on decommissioning challenges both now and in the future.
One of the benefits of the day is that it allows the students to build a network of contacts within the industry from very early on in their career and make an impression on those who are helping to recruit the next generation.
The majority of students who have graduated with PhDs funded through the NDA's bursary have stayed within the nuclear industry. Their final positions range from posts in academia to positions within the wider supply chain – this is a very positive outcome for our mission.
Attendees speak to the students about their projects informally at numerous breakout sessions through the day. The networking is a way for those working in industry to find out more about the cutting edge research students are undertaking. The bursary projects address a wide range topics relevant to complex challenges in the industry and bring some innovative ideas and thinking from different perspectives.
NDA-Sponsored PhD Projects 2017: Abstracts Booklet
Along with everyone else, I really enjoyed the day and found the presentations from the students were both fascinating and well conveyed.
The posters displayed by the students promoted interesting and productive conversations which benefitted both students and industry representatives alike.
The seminar is an excellent example of how knowledge sharing can be promoted within a large network of stakeholders spread geographically across the UK.
Thanks and congratulations
A huge thanks goes to Professor Tom Scott from The University of Bristol who kindly agreed to deliver a keynote talk about his adventures in Somalia. Tom transfixed us with his talk on hazardous wastes which are washing up on the beaches of Somalia and how he is working as part of a small team to help address the issues and find ways in which the waste can be identified and characterised using robotics and mobile phone technology on a budget, reducing the exposure of local clean up teams to the hazardous wastes. It certainly demonstrated to all of us that a career in nuclear can offer a huge range of opportunities!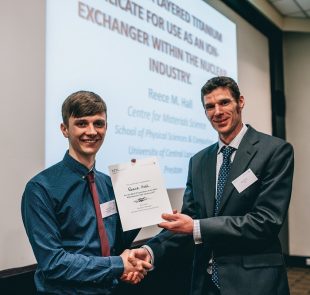 Congratulations go to Reece Hall who won an award for best oral presentation and Jamie Purkis who won the award for best poster presentation.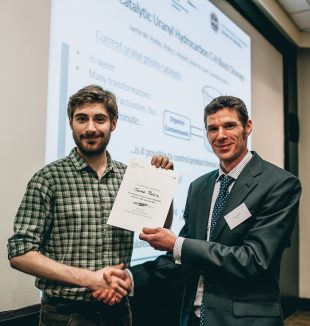 This was my first time attending one of these seminars and I was impressed both by the range of research being carried out and by the students carrying out the work. They were enthusiastic and eager to share the results of the projects they have undertaken. It was clear that they all had good knowledge of the applications and implications that their work could have and were building a strong network of contacts within the industry already. Sponsorship of research work is an important part of our ongoing R&D strategy to ensure there is a strong capability to address our present and future challenges.
Find out more about NDA PhD bursaries