Last week we published our new enterprise strategy for Sellafield. It flows from our purpose of 'creating a clean and safe environment for future generations.'
Like our manifesto our strategy outlines the type of organisation we want to be, whilst clearly setting our 2020 - 2025 objectives.
Our nationally important work will take decades to complete
Sellafield is an important part of the NDA group. We are responsible for mitigating a major national risk at Sellafield, which means high hazard risk reduction remains our number one priority.
We also work collaboratively with others in the group to deliver our part of the NDA mission, and with customers to receive and store used nuclear fuel. Doing so means that generating nuclear power stations can continue to keep lights on across the country.
Our work at Sellafield will take decades to complete, but this strategy provides clarity on our objectives in the next 3-5 years and how we can make a difference every day.
Developing a manufacturing mindset
At its most basic level, the reduction of high hazard and risk at Sellafield means emptying and demolishing old nuclear facilities that are no longer needed.
The process is largely a waste management one. We get the waste out, we process it into safe containment, before providing safe long-term storage for those full waste containers.
Over the next 3 - 5 years we will focus on these 'retrieve, process, store' activities, developing an operational/manufacturing mindset.
It is a huge team effort, and a significant national investment
Our risk reduction and waste management work demand a fleet of new waste treatment buildings and stores. The site is a hive of building activity and remains one of the largest construction sites in Europe.
Each of these new facilities is critical for our work – without new buildings we cannot empty old ones – and each is a significant investment by UK plc.
Key to delivering all of our work – safely and to time and budget – is our teams. An army of more than 13,000 people, from Sellafield Ltd and our direct supply chain to networks of subcontractors and specialists, are working together.
Our strategy builds on our previous plans
The themes of our strategy are recognisable from our previous plans but have evolved to better reflect the organisation that we want to be.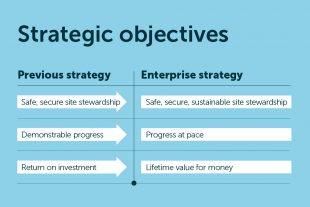 Our commitment to safe, secure site stewardship has evolved to include our commitment to sustainability. It is not enough to simply deliver our work, we must to do in a way that creates a clean and safe environment for future generations.
We have demonstrated that we can make demonstrable progress on the site through our preparations for retrievals and the significant changes made to the site's skyline. The next step for us is to build on this foundation and focus on delivering at pace.
Our last strategic theme has evolved from providing a return on the investment made in Sellafield to providing lifetime value for money. We want to leave a positive legacy for the environment, our workforce and our communities.
We will measure success not just by what we do, but how we do it
Our strategy relies on the behaviours in our manifesto to create a great place to work, with motivated people pulling together as one team to deliver our objectives.
Like our manifesto it is ours, it is a live document and will be updated to reflect changing context and how we deliver on our promise.