Like many organisations that rely on public funding, the recent, big event for the NDA has been the long-awaited 2015 Spending Review announcements.
This 2015 settlement continues the long-term programme of investment in dealing with the UK's nuclear legacy, inherited by the NDA in 2005 but which dates back to the 1940's. We very much welcome the government's continued focus on safe, secure nuclear operations and decommissioning.
In broad terms, the chancellor announced £11 billion of grant funding for NDA over the next 5 years which, together with our projected income in that period of approximately £5 billion, means we can continue to make broad progress across our nuclear estate. However, we have also been challenged to deliver £1 billion of savings through various mechanisms by 2020. To achieve this, we and our Site Licence Companies will need to place even greater focus on efficiencies and value for money.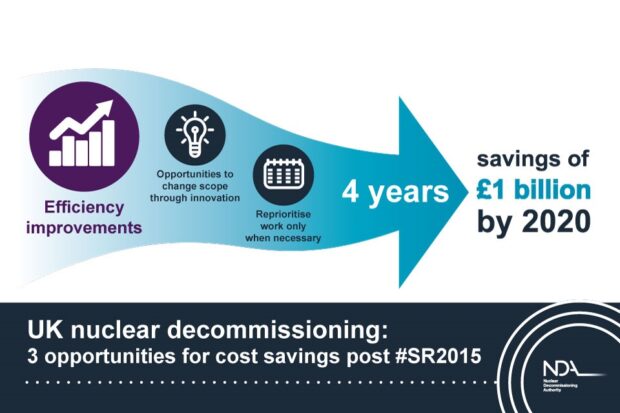 Innovation and the supply chain
The Innovation Zone at this year's NDA Supply Chain event showed off many of the latest advances that are helping to deliver quicker, safer, or cheaper ways to tackle the challenges we face. We aim to stimulate and support this level of innovation through collaboration between the SLCs, the supply chain, academia, ourselves and various funding bodies. You might recall that a recent breakthrough in the management of nuclear waste is set to accelerate progress at Sellafield will save hundreds of millions of pounds.
Photos from Supply Chain Event 2015: Innovation Zone (Flickr album)
Supply Chain event goes from strength to strength
So we must continue to make progress and support our supply chain which is critical in helping us achieve our mission.
More details: draft strategy and draft business plan consultation early 2016
We are publishing more details on the implications of the spending review settlement in our draft business plan and draft strategy documents. Both documents will be published for consultation on 5 January 2016, later than originally planned so the final drafts take account of the spending review.
You will have 6 weeks (until 15 February) to take and look at the proposed strategy and plans. Please do send us your comments and views. We welcome your thoughts, so please engage in the consultation.
To keep up to date with our work sign up to receive our regular e-bulletin or share your supply chain news in our NDA estate supply chain networking group via LinkedIn.
You can also sign up to receive updates via this blog on the right.