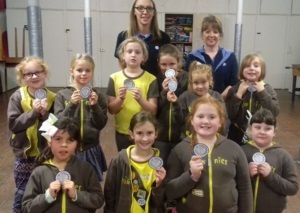 LLWR pair Fiona Robinson and Holly Cresswell are Leaders at Second Seascale Methodist Brownies (pictured) and decided to work towards the 'Clever Cogs' achievement badge with the pack, using engineering as their inspiration.
Fiona, back-row, right, said: "This was a fun way to get the girls thinking about different types of engineering, and also got them using problem solving and team-working skills.
"Women in Engineering is an important topic at the minute and this is a good way of inspiring the future generation of female Engineers."
Aeronautical engineering included making hard-boiled egg parachutes; material  engineering saw the youngsters make slime; and in computer programming the Brownies guided each other through a maze, blindfolded. They also made structures out of dry spaghetti and marshmallows in structural engineering.
Holly added: "The Brownies really enjoyed all of the Clever Cogs activities, but I think being 'chemical engineers' and making slime was their favourite.
"One Brownie even said that it made her want to be an engineer."
23 June 2018 is International Women in Engineering Day: find out more about this including the competition for 5-11 years olds to Draw an Engineer