This week we started a phased return to work in some of our offices. I ask two of the people who helped make this happen share their views and experiences.
Stuart Latham, Head of Replacement Analytical Project, led the work on the restart
The last few weeks have been a very different working experience for many of us, sat at home with variable IT capability, trying our best to progress work and maintain progress on our critically important missions.
Within the Project Delivery directorate some of the most impacted community have been our designers, who don't have the ability to work on their normal high specification machines.
I know we have a duty to the nation to reduce the hazard at the Sellafield site, and this work can't stop for the duration of the pandemic.
Instead it is our responsibility to find a way that we can deliver it safely, within this new environment.
This week we reached an important point in our planning for the return to work following the Covid-19 pandemic, with the first few people attended our offices and our partner's offices in Whitehaven and Warrington. The decision to restart the offsite offices, as part of a progressive ramp up, was not a decision that was taken lightly.
This week's return to work has been in planning almost since the day the lockdown started. We knew that at some point we would have to ramp up work, but we also wanted to make sure our people were safe and that it was the right time to do it.
The return to offices, and the beginning of construction work in our projects which starts this week on the Box Encapsulation Plant Product Store Direct Import Facility, is a delicate balancing act between what we can do, and what we should do.
In the case of our designers, it was a decision we had to make to keep our projects on track. The simple truth was that for some of our people, it is impossible for them to work anywhere but in our offices. They need access to specialised technology to do their vital work.
We have brought back approximately 140 people (employees and partners) to work at Albion Square and Kelton House in Whitehaven, and Allday House and Hinton House in Warrington. Every one of them had a discussion with their line manager to make sure they were ready to return and that their circumstances would allow them to do so.
If at any stage things change, for individuals or the business, we can roll back any decisions.
The restart has been a success at both ends of the motorway, although we will be looking to ensure that the residents' feedback is captured and incorporated where appropriate. Initial feedback is that it is a strange experience for those few people who have returned – working in almost-empty buildings, not able to interact too closely to their nearest colleagues, and interfacing with many people who are still working from home.
However, over my time working at Sellafield I have learnt that we have an incredible workforce within our sector, capable of taking on challenges and finding new ways to work. I am sure everyone, whether working in our offices or at home, will adapt and stay safe, after all, it is what we have been doing for decades.
Finally, my personal thanks to the facilities team who have been responsible for implementing most of the arrangements and our various design partners who have supported the deployment.
Head of Warrington Offices, Alex Walsh was responsible for making sure everything was ready for up to 130 employees to work safely
This week marked an important point in our response to the Covid-19 pandemic. It was the first day we allowed employees to return to our offices in Warrington and Whitehaven.
Doing this has been a difficult decision for the business, which has taken weeks to resolve. It is part of a huge undertaking by us to understand what needs doing on and around our sites, when it needs to be achieved, and whether we can make it happen safely.
On Monday (approximately 100 people returned to work at Allday House and Hinton House in Warrington, and Albion Square in Whitehaven. They are all people working on the design elements of some of our most critically important projects.
This is work which has to be done on high-spec, powerful design machines. Unfortunately, this means it cannot be done at home on laptops, unlike a lot of the work done in our offices.
It is a mark of just how important this design work is, and how it impacts on other parts of our mission, that it was identified as the first workstream to return.
As Head of our Warrington Offices I was there on the first morning to help ensure things ran smoothly. It gave me the opportunity to see how things have changed and to talk to some of our employees.
And things have changed in the past 6 months. From the way our people access our offices, to the measures put in place to ensure our people's safety. It was great to see enthusiasm and eagerness to return to work, but it is also clear it is going to be very difficult for them. They will be working in large, almost empty spaces, separate to their friends and colleagues. The offices will be kept spotlessly clean, and the things we used to take for granted – such as our canteens, won't be open.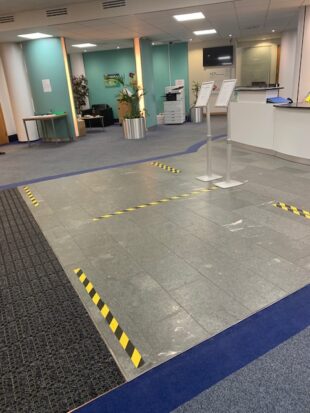 Luckily, here at Sellafield Ltd we have been taking safety seriously for decades. We are the right people to ensure we continue to work safely in these strange times.
But we know we have a duty to the nation to reduce the hazard at the Sellafield site, and this work can't stop for the duration of the pandemic.
All our people – those who now have access to working in our offices and the thousands more who have adapted to working from home, are helping make sure this happens.