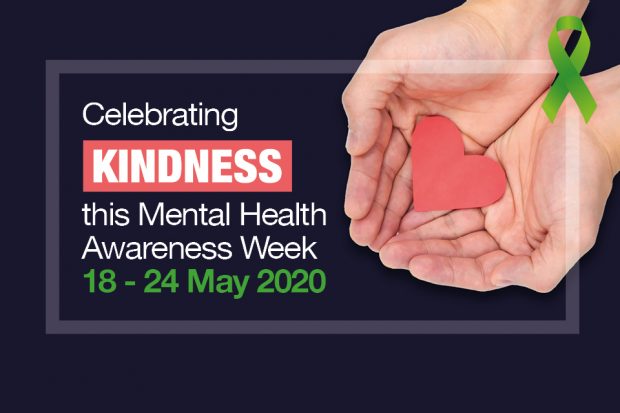 If there is one thing which I think we can all take away from the past few weeks, it's an overwhelming feeling of caring and kindness from people and communities.
Whether it's the coming together on our doorsteps every Thursday clapping for keyworkers, volunteering in the local shop and running errands for a vulnerable neighbour or helping to raise funds and making NHS kit – recent actions display a basic human quality of kindness.
We're looking out for each other perhaps in a way we didn't before, or maybe we did but now our help, support and warmth is needed and appreciated more than ever.
This week is Mental Health Awareness Week and the theme is kindness, and so it's the perfect time to reflect on the precious role that kindness can play in all human interactions. Being kind to somebody is a way of saying to them 'I would like your life to be that little bit better right now' and it takes many forms, from remarkable acts of community support like those listed below which our colleagues have committed to for their neighbours, right the way through to taking time for warm and supportive words to colleagues who are going through tough times.
We have all known difficult times when a small or large act of kindness has lifted our spirits, particularly if it comes from an unexpected quarter. Equally we have all known the deep satisfaction which comes from knowing that our act of kindness has cheered up somebody's day.  I do believe that kindness can make even the toughest challenges, the most difficult conversations, easier to navigate – and the challenges we face together right now are as big as any.
Helping to make a difference
Across the Nuclear Decommissioning Authority group our colleagues have pulled together to meet the challenges and requirements of the Covid lockdown in many extraordinary ways. Like other businesses and industries, we have all been juggling family life, home schooling and working, while also trying our best to look after ourselves and being there for others.
Many of our teams across the UK have been involved in community support such as providing food and delivering prescriptions, making personal protective equipment and raising funds for the NHS.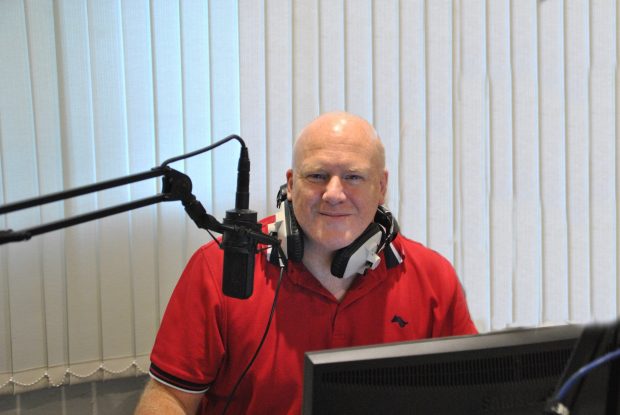 Magnox employee Kevin Titley, a Quality Assurance Engineer from Trawsfynydd Site, has become the Community Volunteer Co-ordinator for Llanbedr Community, setting up a volunteer group collecting shopping and prescriptions. Daren Green, who works at Oldbury Technical Centre, is a volunteer Programme Director for Dean Radio FM community radio station presenting shows from a make-shift home studio, while workers from the Wylfa Site, on Anglesey, are converting bedding and other material into scrub bags for NHS workers.
Robert Alford, from the NDA corporate centre, is volunteering at a community café run by people from the local church and village. Since lockdown they have been delivering lunches to those who are housebound and vulnerable. And at Dounreay, Kirsten Johnston, a co-ordinator in the safety team is grocery shopping for people in Halkirk as well as balancing her home and part-time work, while Sergio Sanz-Bustos and six others from the Dounreay group have printed almost 3,000 3D visors so far.
Supporting our NHS
Shona Cunningham, part of the business management team at Sellafield Ltd has been working tirelessly to raise funds for NHS and care services in West Cumbria. In just over a month, she has managed to raise more than £25,000 for care packs with the help of others, after setting a £500 target. Meanwhile Sellafield employees Claire Riley and Eleanor Billson are volunteering at Cumbria Scrub Hub, using their project management experience to coordinate hundreds of volunteers, while Ryan Taylor, Senior Project Manager, and Jessica Ward, Programme Manager, are helping to plan and coordinate a team of 50 volunteers in the Whitehaven area organising a range of services.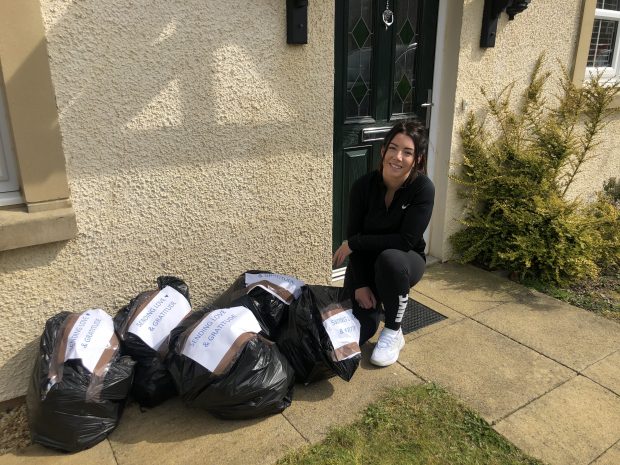 Cath O'Neil , a training manager at DRS has been working with Cockermouth Emergency Response Group, shopping for people who cannot leave their homes, together with her husband Michael, who works at Sellafield. While Hannah Kozich, Head of Strategy at LLWR and Mark Worrall, LLWR's Package Services Delivery Manager have become NHS volunteers as they wanted to give something back.
Joanne Lane, a senior member of the INS team has been helping out with Open Kitchen since setting it up with others eight years ago, providing a free two-course meal to anyone in need and Meb Vadiya, on secondment from INS to the NDA, is an NHS responder delivering food and medication.
In among the stress, tragedy and sadness of recent weeks there has also been huge support, warmth and consideration. Sometimes it's just a few kind words or a gesture which can make all the difference – it's asking 'how are you' and genuinely caring about the reply. We are immensely proud of our colleagues around the NDA estate and the way people are adapting to a very different way of life, while reaching out to others.
To see a short video of just a few of our workforce helping to make a difference click here.
Mental Health Awareness Week has been organised by the Mental Health Foundation which offers a lot of help and advice about getting involved  and also ways to help, including taking time out to get moving and feeling good.