At first glance, nuclear decommissioning isn't an obvious area for deploying satellite applications. But the 2017 SSGP Showcase was a real eye-opener in demonstrating how data collected in space can be combined with other information to improve understanding of what's on the ground.

Space age here on earth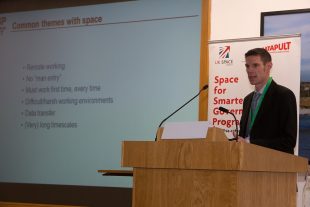 The conference was organised by the Space for Smarter Government Programme (SSGP) which works with government departments and affiliated public sector organisations to help them realise the range of opportunities from satellite-enabled products and services.
SSGP is led, managed and funded by the UK Space Agency. The programme is delivered in close collaboration with the Satellite Applications Catapult, an independent company created to foster growth across the economy through the exploitation of space (which is part of a wider network of UK Catapults supported by Innovate UK).
Monitoring our natural environment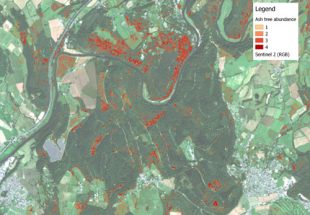 Several of the presenters spoke about the natural environment and how satellite (earth observation) data has been used to monitor the quality of water, air and plant health
What was really evident was this data alone was often not the complete solution to many monitoring challenges.  When combined with aerial and land-based observations and measurements, however, it can reveal additional information, helping with long-term predictions and planning in ways that wouldn't be achieved with any of those methods alone.
The health of British forests was one great example – by combining historical (manual land-based) data on trees with satellite imaging data over the same period, correlations can be achieved, then used to predict the likely spread and effect of future disease outbreaks.
In relation to decommissioning, we might be able to use similar methodology around our 17 nuclear sites. At the time of construction in the 1940s and 1950s, detailed records across these 16,000 acres were not always made, which makes the task of decommissioning more challenging.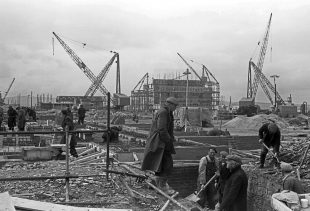 Monitoring groundwater flow is one area where we might be able to apply similar techniques; we have hundreds of boreholes across the estate that are manually sampled to provide data about water levels and radionuclide movement. If we identified (or purposefully planted) indicator plant species in and around the areas of interest, we could combine the manual measurements with satellite imaging to make predictions about groundwater movement.
For example, if we found a species that changed colour when certain concentrations of metal ions are in the soil, could we use them as indicator species that we could track from space without relying on boreholes being in the right spot?
As well as presenting some of the challenges associated with decommissioning the legacy nuclear estate, I was asked to join a mixed government and industry discussion panel at the conference. We discussed government infrastructure challenges, existing solutions and opportunities to address those challenges, which included an example of how space data is actually already being applied on nuclear sites.
Counting anything
Dr Andy Wells from Sterling Geo, a UK based SME, gave some good examples on how applications developed for specific purposes (e.g. counting the number of caravans on a caravan site to aid local government emergency planning and compliance monitoring) could very easily and cheaply be adapted and repurposed to count the number of just about anything (that is visible from space). He showed that by adapting these kinds of programmes, it's not necessary to develop completely new algorithms for each application, and thus there was real potential for saving money by adapting work that has been used in other sectors.
Case study: SterlingGEO – 100 to 1
Partners with a challenge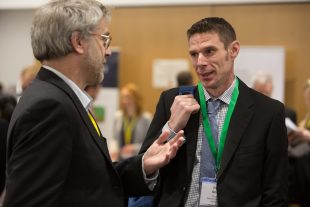 The event also provided plenty of networking opportunities around the fringes to meet people from organisations with similar challenges to us, such as defence, environmental mitigation and emergency planning.
There were also many more representatives from the supply chain working in the areas of robotics, modelling of ground deformation and subsidence, water quality and movement, plus various other satellite applications such as resilient communication services.
Involvement with decommissioning
I didn't have nearly enough time for in-depth conversations with all the people that I met at the conference, but I'll be following up with all the contacts I made. It was encouraging that many of them were keen to learn about how they could get involved with NDA to help solve our challenges. Some were already involved with NDA-related projects (e.g. with Innovate UK) and just wanted to know if they could extend their current work to more of our sites and how they might do this.
NDA sharing forum
One question for me on the discussion panel was around how we share information about possible applications around the Estate and within wider government – so I promoted our own Nuclear Waste and Decommissioning Research Forum (NWDRF) as the way we share R&D information and learn from each other.  SSGP gave a presentation a few months ago to this forum, which includes regulators, EDF, MoD, AWE etc and we are currently in discussions on next steps.
The UK Space Agency and the Satellite Applications Catapult also exhibited in the Innovation Zone at the recent NDA Supply Chain Event 2017, and were among a range of other industries in the zone – read about them in a blog by Beth Ripper.
Keeping up to date with developments in satellite technology
Adapting technology from space is just one of the approaches being looked at by the NDA to bring innovation to decommissioning challenges.Satellites and space technology are one of the funded projects within the Government's Industrial Strategy Challenge Fund.
The fund aims to establish a satellite test facility, as well as support new launch technologies, manufacturing and testing capabilities to construct future satellites and deliver payloads into orbit.
Along with government, NDA is keen to bring together the UK's world-leading research with business and look at how they can work together to meet our nuclear decommissioning challenges now and in the future.
Further information
If you would like to keep up to date with the development of space technology funded through the Industrial Strategy Challenge Fund:
Sign up to Innovate UK updates
Space for Smarter Government programme includes useful links to free to access resources and wider training opportunities
Contact the team directly on ssgp@ukspaceagency.bis.gsi.gov.uk