It's a buzz on the day.
But what's the longer-term impact of winning one of the NDA's Supply Chain Awards?
We asked previous winners to share their experiences since their time on the podium to collect a trophy. There were certainly some common themes emerging.
The businesses we asked each told us that winning or being shortlisted for an award has helped them:
pitch for new business and talk to customers
recruit new talent
motivate existing employees
promote their organisation within the local community
Here are a few words from previous winners:
2016 Winner of the Minister's Award:
100 years of training at Metalcraft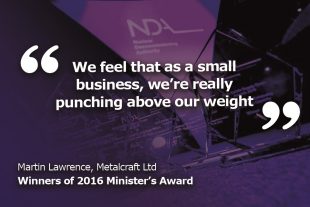 After identifying an age profile issue a few years ago, Metalcraft set up a project to develop more home-grown talent, culminating in establishing an apprentice Training Academy – "the Fenland Engineering Skills Centre". In 2016, they celebrated 100 years of training apprentices on their site.
Martin Lawrence from Metalcraft said:
Since winning in 2016, we've gone on to win 7 local, regional and national awards. We've also been named one of the UK's Top 100 apprentice providers for 2 consecutive years.

We feel that as a small business, we're really punching above our weight in this area, sitting alongside much larger organisations.
2016 Winner of SME Innovation Award:
Omniflex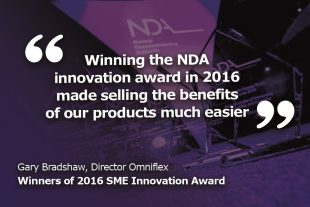 Omniflex developed a new product to replace the entire radiological monitoring system and associated instrumentation in an active Sellafield handling facility while maintaining 100% plant availability.
Director Gary Bradshaw said:
Winning the NDA innovation award in 2016 made selling the benefits of our product much easier. Nuclear customers are prepared to read the literature and the good press we have had about the product, knowing we have had the award from the NDA.
2016 Winner of Best Enhancement of Capability and Capacity:
Profile Security Services - Security Return To Work Scheme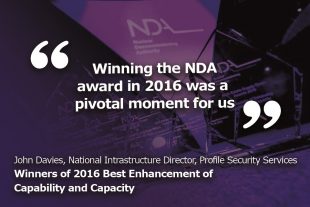 Profile Security Services set up a partnership with Dounreay and the Wick Jobcentre Plus to create 'Return to work', 'Work Experience' and 'upskilling' opportunities in the security industry for young people locally.
National Infrastructure Director John Davies said:
Winning the NDA Award in 2016 was a pivotal moment for us. The pride we felt at coming out ahead of other larger and more established organisations has spurred us on to develop our presence in the civil nuclear industry.

Our business with the NDA Group has increased by about 20% in the last 2 years. In addition, we believe the award has been a significant factor in our success in a number of non-nuclear tenders over the past 2 years.
2017 Highly Commended of the Minister's Award:
BICO Ltd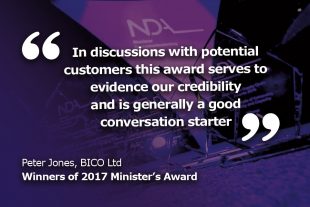 BICO won this SME award in recognition of the great value, flexibility and innovation that their team brought to the Magnox Wylfa site. Their project provided bespoke tools and supporting equipment for the recovery of Intermediate Level Waste in Wylfa power station's dry storage cell.
Peter Jones from BICO said:
We were glad to have received the award, and since winning it have had work from other Magnox sites with whom we have little history. It is a useful thing to have. In discussions with potential customers, this award serves to evidence our credibility and is generally as a good conversation piece. We are proud of the work we have done on this project and the award is a nice recognition of it.
2017 Winner of Best Export:
Veolia Nuclear Solutions UK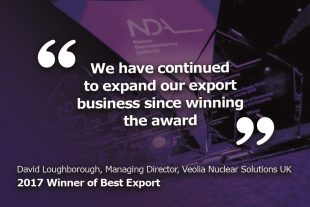 The foundation of this award is the development and successful delivery of remote handling solutions that are supporting decommissioning projects at Dounreay (Shaft and Silo) and Sellafield (pond clean-up programme), which has led to Veolia Nuclear Solutions building on this, and now supporting the even more challenging project at Fukushima Daiichi.
Managing Director David Loughborough said:
This award recognises UK expertise and knowledge gained from the NDA's estate which is now being deployed to support one of the world's most challenging decommissioning projects at Fukushima.

It is excellent to have been a winner of the Export Award which recognises the hard work from our organisation and supply chain. We have continued to expand our export business since winning the award.
2017 Highly Commended for Technology Innovation:
Underwater Construction Corporation UK Ltd - Use of divers in spent fuel ponds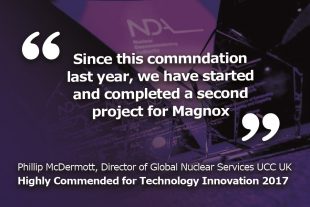 Specialist divers were deployed in spent fuel ponds to dismantle, cut up and remove a range of items and equipment stored under water. They also collected sludge and other debris before the ponds were drained in preparation for care and maintenance.
This approach was commissioned by Magnox at the Dungeness A site, with UCC performing a total of 265 safe dives in 2 ponds from late 2016 to 2017.
Philip McDermott, Director of Global Nuclear Services, said:
Since this commendation last year, we have started and completed a second project for Magnox, this time at Sizewell.  We actually finished diving last month.  The Sizewell project continued the success UCC UK experienced with Alan Walker and his Dungeness team.

Magnox claims extensive benefits from the use of the diving, from dose savings, to schedule savings, to cost savings.  Their savings that they list are significant and they are very pleased.
Apply for 2018 Supply Chain Awards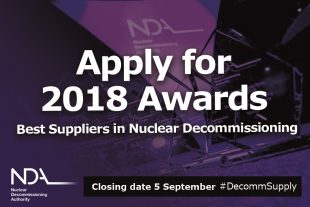 This year we have 5 categories including a brand new category of 'Best Approach to Ethical Practice or Social Responsibility'. The closing date for applications is 5 September 2018.
Find out how to apply for NDA Supply Chain Awards
Winners will be announced on 1 November at the NDA Supply Chain Event.
Register to attend the biggest free networking event for nuclear decommissioning (EventCity, Manchester UK: 1 November 2018)
For those interested in learning about exporting opportunities, the day before our supply chain event, the Nuclear Industry Association (NIA) are holding their International Group meeting in Haydock.
Find out more about the NIA International Group meeting on 31 October 2018 in Haydock