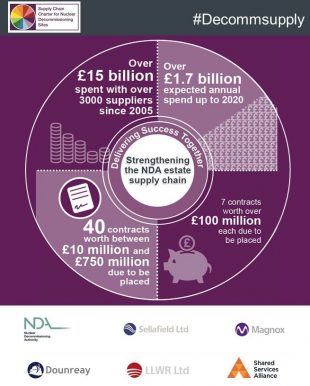 We knew from informal feedback on the day that most visitors – and we had 1,500 through the doors - felt it had been a valuable event, so it's fantastic to have official confirmation through the responses to our questionnaire.
Our aim was specifically to provide networking opportunities for smaller businesses so it was good to see that 50% of those attending were Small and Medium-sized Enterprises (SMEs), and that there were dozens of delegates who were new to the decommissioning market.
Equally useful, we now have a range of suggestions for further improvements that will help to shape how we organise the programme next year. The informal networking and face-to-face discussions are of huge importance for our suppliers so we'll be aim to enhance this aspect.
Those I spoke with also seemed to really value this as an event that is organised by the industry for the industry.
The 6th #DecommSupply event at Manchester's EventCity in November was part of a series of initiatives we've developed over recent years to support the supply chain.
There was a real "buzz" on the day, and it was definitely the busiest event we've had so far, attracting well over 1,500 visitors.
Read the full feedback survey results from attendees
We know that suppliers value the opportunities for networking with other businesses, as well as hearing from and speaking directly to leading figures from across our estate. So this day is a welcome part of business calendars.
Those I spoke with really seemed to value this as an event that is organised by the industry for the industry.
Photos from #DecommSupply event 2016 (Flickr)
The reason this event is so important is that the success of our 120 year mission, to clean up 17 of the UK's earliest nuclear sites, relies on vibrant, dynamic businesses finding solutions to the many challenges across our estate.
So far, 3000 companies have worked with us to achieve our mission. Two thirds of these are SMEs.
This event is about working with the supply chain, from the largest to the smallest players, to improve opportunities for involvement in decommissioning.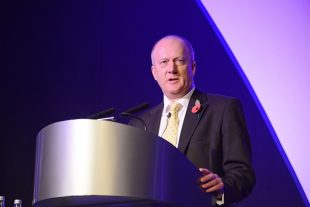 NDA Chief Executive, John Clarke, formally opened the #DecommSupply event, highlighting the importance of suppliers in providing skills and innovation to support decommissioning progress.
The main hall featured almost 300 exhibition stands, staffed by a wide range of technical and service suppliers, alongside information stands representing the NDA, all the SLCs, government bodies and regeneration organisations.
Additional afternoon sessions also worked well, offering presentations on specific subject of interest, such as collaborative procurement, R&D or skills.
Other government representatives attending included: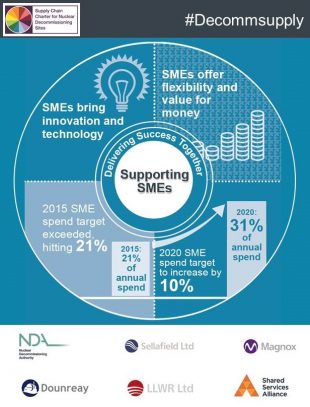 Importance of SMEs
Co-ordinated jointly by the NDA and its Site Licence Companies, the day aims to provide greater visibility of opportunities for suppliers, in particular for SMEs. We had a stand at the event dedicated to information specifically for SMEs.
We had a stand at the event dedicated to useful information specifically for SMEs.
Beyond the event, we run an annual mentoring scheme for SMEs, and we have regional steering groups:
Find out more about SME mentoring scheme
Find out more about SME steering groups
Importance of international businesses
We welcomed representatives from businesses across the UK and overseas. Some delegates came from as far afield as Canada, the US, Japan, India, Singapore and Europe.
Importance of #DecommSkills
New for 2016 was a Skills Zone where a range of organisations were able to offer guidance, advice and one-to-one discussions.  Organisations represented included:
Importance of #DecommResearch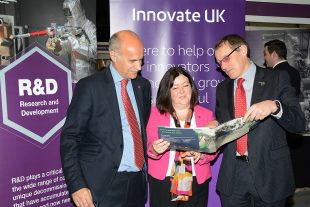 The ever-popular Innovation Zone, supported by the government's Innovate UK, hosted more than 40 exhibitor companies. They demonstrated their leading-edge technologies during the afternoon.
Celebrating success in the #DecommSupply chain
One of the morning highlights was the presentation of NDA Estate awards which recognise suppliers who have successfully worked on collaborative projects, innovative technology, skills development and exports.
Networking beyond #DecommSupply
To share news and views with colleagues across the industry, we encourage suppliers to join our LinkedIn supply chain group. We currently have nearly 900 members.
Join the LinkedIn NDA Estate Supply Chain Group