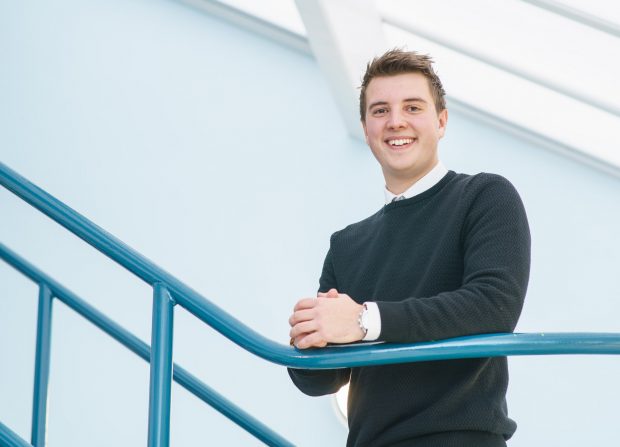 Q. What's your job here at Oldbury Technical Centre?
I'm a business technician and have been with Magnox for 18 months. My role is to support the finance team working across the fleet, which involves everything from reviewing project costs to paying suppliers.
Q. What was your career route to this role?
I took A-Levels in Product Design, Finance and Business and, after some work experience roles, knew I wanted a career in accounting, so began looking for apprenticeships and applied for the Magnox role after seeing the vacancy on the government website. I've just finished my Level 3 apprenticeship and am progressing to the next stage, so in three years' time I hope to qualify as a Level 7 chartered accountant.
Q. What do you enjoy most about your role?
There's far more to this role than just numbers, and I'm currently training as a cost engineer with the EHSSQ team at Oldbury which means spending time on site, seeing decommissioning as it happens, getting to know the projects and the people – in fact, experiencing all areas of the business. The diversity of the role is really fantastic.
Q. What's the most challenging element?
For me, understanding how everything works in an office and a business has been a new experience. There is a lot to learn, especially with some of the nuclear acronyms, and it's also important not to be afraid of asking questions.
Q. What support have you had through your career in Magnox to develop?
My line manager, who allocates work, and my mentor, who looks after any other issues such as complaints (not that I have any!) or mental health, have both been incredibly supportive during my time with Magnox. They're very encouraging and helping to steer me in the right direction –I'd say they're outstanding!
Q. How do you find the nuclear decommissioning industry?
Nuclear is fascinating and I didn't realise just how much variety there is, or how many opportunities. Even once the Magnox sites eventually close, there are many other nuclear plants that will need to be decommissioned.
Q. Why did you opt for a modern apprenticeship?
I prefer the idea of combining theory with practical experience rather than learning all the theory first and then moving on to the practical. There is also the bonus of earning instead of acquiring student debt, which is a massive motivation!
Q. Would you recommend an apprenticeship to young people as an alternative to university or college?
Most definitely.
Q. Where do you see yourself in 5 years' time?
I plan to be a chartered accountant, hopefully still working for Magnox or elsewhere in the nuclear sector.
Read more from apprentices past and present:
Sian Downey
Charlotte Hall
Phoebe Lynch
To find out more information on apprenticeship roles and how to apply, visit our main article and the Energus website.