Q. What's your job here at Oldbury Technical Centre?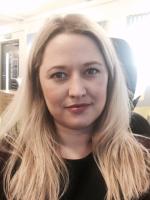 I'm the Reactor Decommissioning Engineering Manager, and am responsible for the technical programme to dismantle the first commercial reactors in Magnox (and the UK!). The original plan was to leave them in a safe, secure condition for several decades and dismantle them later, but we're revising this approach, currently planning to carry out the work much earlier.
Q. What was your career route to this role?
I started 13 years ago as an electrical apprentice at Bradwell, after scraping together enough points from my GCSEs and AS Levels – I didn't do A-Levels. I completed college day release during my three-year apprenticeship, and moved straight to a part-time HNC in electrical & electronic engineering which I completed in the workshop over 2 years. At college, I was the only girl out of 450 boys and believe I was also the first female to step foot in the Bradwell workshop. Not only that, but I was probably the youngest person by around 20 years!
Then I moved from a production technician to a senior production technician, became a project engineer in the ponds programme in 2010 and started a part-time BEng in Mechanical Engineering which took 4 years. I moved to a senior / lead engineer role, took the opportunity to lead the two ponds programme engineering teams at Dungeness A and Sizewell A, then became the South East engineering section head. Over the past few years I've worked across many decommissioning projects, most recently leading the technical aspects of the Magnox reactor dismantling programme. During this time I've also completed an MSc in Mechanical Engineering, again while working. I still live in Essex, and am technically based at Sizewell A but work across the entire Magnox fleet.
Q. What do you enjoy most about your role?
I love developing and managing such a varied and complex scope of work. As well as getting to work with lots of brilliant people from Magnox, I also engage with others from the NDA estate, from the supply chain and academia, so I'm involved with lots of interesting and exciting projects. I also work as a STEM ambassador to encourage more girls into technical careers, and am a personal mentor for some young female engineers.
Q. What's the most challenging element?
Making sure I have a good enough understanding of the whole programme of works and don't focus too much on areas where I can't add value. My job is to co-ordinate, manage and deliver the programme technically, and to do this I need to be able to step back and not get too involved in specific details but to trust my team are delivering them as is required.
Q. What support have you had through your career in Magnox to develop?
Magnox has given me an amazing amount of support from allowing for day release, inclusion on development programmes, mentoring schemes and more. I'm incredibly lucky to have had brilliant line managers, role models and friends over the years that have encouraged, supported and guided me throughout my career.
Q. How do you find the nuclear decommissioning industry?
There are opportunities to work in so many interesting and often "first of a kind" projects that have never been attempted before, anywhere. We get the rare opportunity to deliver the whole lifecycle of a project, from the start right through to implementation.
Q. Why did you opt for a modern apprenticeship?
I wanted to be an electrician - my dad was an electrician - as I've always been very practical and love fixing things. It wasn't until I started that I realised I wanted to move into engineering and engineering management – combining my love of all things technical and being a bit bossy.
Q. Would you recommend an apprenticeship to young people as an alternative to university or college?
An apprenticeship is the best of both worlds. It's not an alternative to university or college but a way of earning and practically learning whilst also studying.
Q. Where do you see yourself in 5 years' time?
I plan to stay in the engineering manager role and, in 5 years, we'll be well on the way to dismantling our first commercial Magnox reactor.
Hear from our apprentices past and present:
To find out more information on apprenticeship roles and how to apply, visit our main article and the Energus website.