What does inclusion mean?
So, inclusion is about creating working environments that encourage, value and thrive on difference and where everyone's contribution is encouraged and recognised.
Like in other aspects of our lives, a 'one size fits all' at work is not realistic. People have different needs, so supporting people on an individual basis is important. So often though, organisations aren't set up to offer this tailored approach and as a result are missing out on some great skills and experience.
Why is inclusion important?
The research is clear, organisations perform better when they have inclusive cultures and diverse workforces who feel valued and apply their different perspectives and ways of working.
Why is the NDA group prioritising inclusion?

Cleaning up and decommissioning nuclear sites requires us to be innovative and use new technologies to overcome some of the challenges in our work. Environments that encourage people to think differently, put forward their ideas and speak up to challenge the status quo are essential to us, as is retaining and attracting new skills and talent for years to come.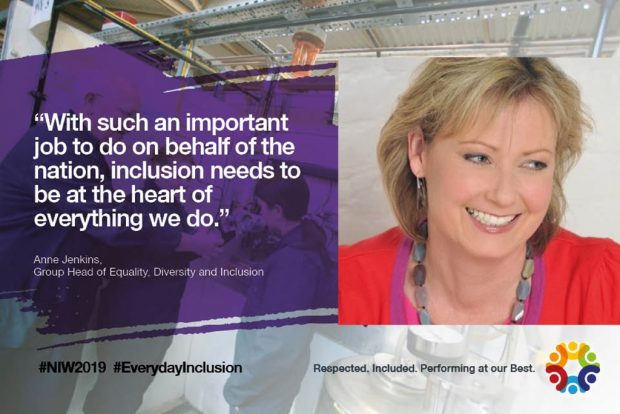 What are you doing for National Inclusion Week?
There are a wide range of activities taking place in all the organisations across the NDA group, including our transport businesses. People are sharing their stories so that others can listen and learn via lunch and learn sessions, podcasts and webinars.
Of course while it's great to celebrate National Inclusion Week and we're excited to be involved, real inclusion comes from the way we interact with each other every day. Real inclusion happens when employers and employees work together to create environments that encourage, value and thrive on difference and our everyday behaviours really matter.
It may be as simple as:
taking the time to ensure you listen to the quietest voice in the room
thinking more about the time and location of meetings and their impact on people's lives
praising a colleague for work done well
taking time to really get to know your team members
being mindful of your non-verbal signals (eye contact and body language)
If organisations really want to reap the true benefits of inclusion we need everyone to get behind everyday inclusion and try our best to live it everyday.
Please share with us in the comments below what you believe creates the most inclusive workplace culture.