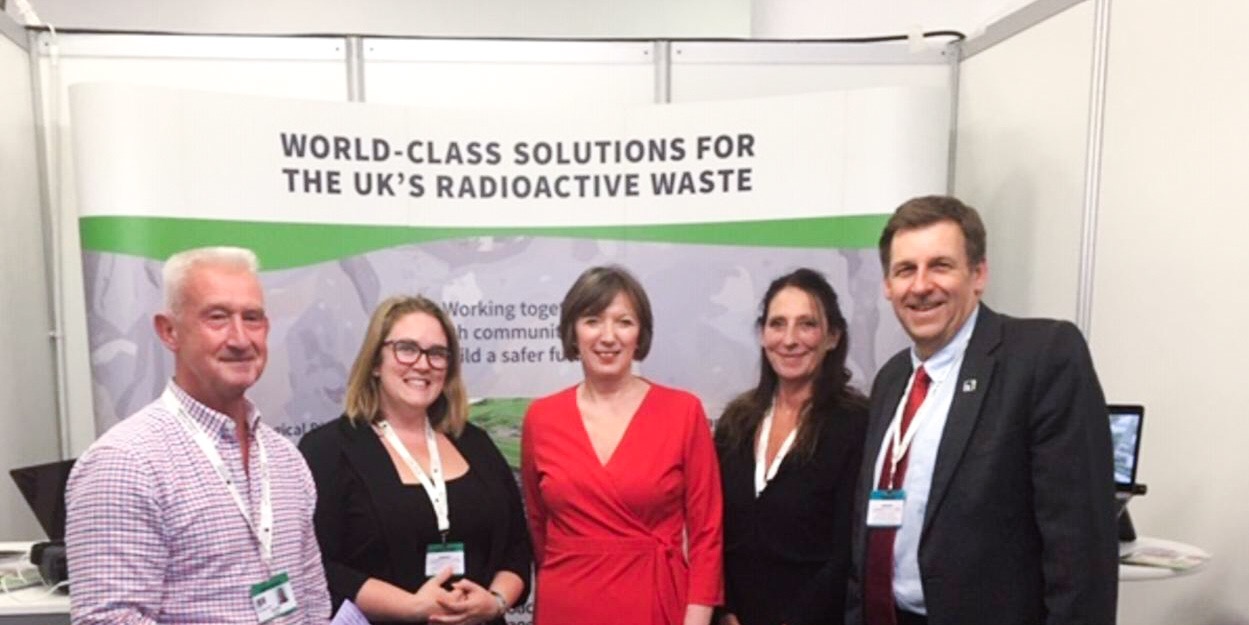 Last week we set off to sunny Brighton, home to a famous pier, too many famous party conferences, and the annual Trades Union Congress (TUC).
Engaging with key industry and union audiences is really important to RWM as we work to identify a suitable site and a willing community for a Geological Disposal Facility (GDF). Attending the TUC Congress was a first for us and our team worked hard for many months planning our presence at the exhibition and at a fringe event.
We talked to a lot of people and listened to many different views, learning lots about what is important to unions, while also being able to provide our own perspective. Our hard work paid off, as we built a much greater understanding about the differing audience perspectives on this crucial environmental protection project.
TUC world
Many people will have seen the highlights of TUC Congress on national TV. It is a high profile national event, bringing together around 600 delegates from 48 affiliated unions to discuss and debate motions, vote on TUC matters and address current and future workers' issues and big societal and economic topics.
With around 3,000 visitors over four days, the TUC packs a punch in political and media terms, as the big set piece event at the end of the summer and ahead of party conferences. This year was no exception, with a full agenda covering the big issues of the day – Brexit, the economy, transport, social mobility, the equality agenda and much more.
Let's talk Geological Disposal
RWM has a long standing relationship with trade unions, both in its own right and through its parent company, the Nuclear Decommissioning Authority (NDA).
The RWM stand provided a place for us to meet and speak with delegates and strike up conversations about geological disposal and the long-term management of radioactive waste. Visitors to our stand spoke with RWM colleagues about a wide range of issues – about policy, the siting process, geology, and what the GDF could mean for a community.
Many people were curious about what we did and what the GDF project was about. Some people knew a lot, others very little. Our expert team handled this diversity of views brilliantly. We are confident that everyone went away better informed, even if not always fully converted!
Making Geological Disposal Accessible
Making the complex topic of geological disposal accessible is central to our communications and we have a number of tools and resources that help us do this.
Our Virtual Reality (VR) headset takes the visitor on a virtual tour of an underground repository, bringing the GDF to life: how the facility is constructed, how waste is packaged and disposed of, thus helping to demystify what is often little understood.
Questions about geology were satisfied by dipping into our National Geological Screening (NGS) online tool to look in more detail at a geological region or sub-region, to identify its characteristics and suitability to site a GDF.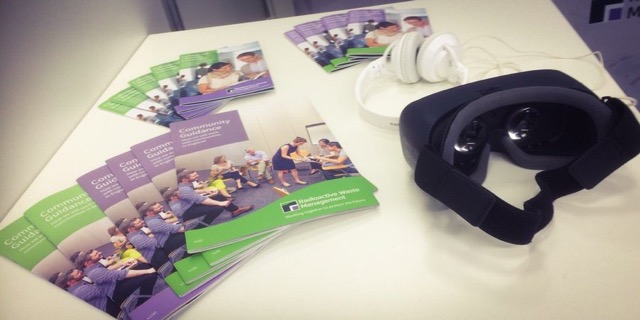 We showcased our new videos on geological disposal, which introduce RWMs mission and approach to community engagement in an accessible animated format. Our 'Introduction to Geological Disposal' booklet was as popular as ever with Congress goers, as an easy to read guide on the subject.
Highlights from the exhibition included a visit by Frances O'Grady General Secretary of the TUC to RWM's stand, and on the final day we were delighted to host Mike Clancy, Director General and Sue Ferns, Deputy Director General of Prospect.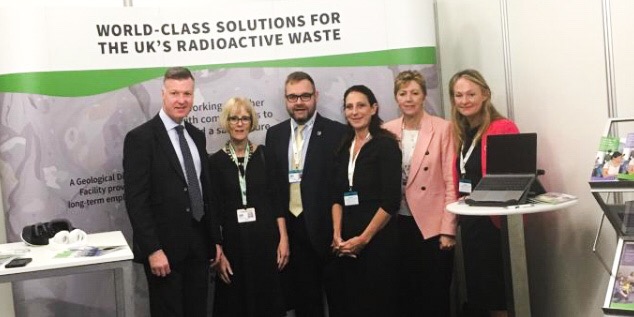 Getting to the heart of issues
The TUC Congress also runs many fringe events over the four-day event, covering a wide range of topics. RWM took part in a TUSNE-hosted GDF fringe called: 'Radioactive Waste: Delivering Geological Disposal' .
The fringe was chaired by Dai Hudd, former Deputy Director General General of Prospect, and the panel included strong union representation from Peter McIntosh National Officer for Unite and Jez Stewart, Negotiations Officer at Prospect. An expert independent scientific perspective was provided by Dr Claire Corkhill from Sheffield University, and RWM was represented by John Corderoy, Programme Director and RWM Board member.
"A Game Changer for a Region"
Following introductions by the Chair, John Corderoy kicked off the panel with an overview of the GDF programme, setting out the long-term benefits that that a GDF will bring to a community, calling it "a game changer for a region".  Unite and Prospect representatives spoke about what GDF could mean for their members and their communities, for the nuclear sector as a whole, and also the next generation of workers. Dr. Claire Corkhill provided an overview of geological disposal, as the internationally recognised best long-term solution for radioactive waste management. The panel also shared insights into other countries, such as Finland and Sweden who are developing underground repositories.
The fringe event was a great way to get the audience talking and discussing the issues that mattered to them. It was well attended by industry and union representatives, including Tony Burke, the Assistant General Secretary of Unite the Union, and also a leading national NGO. Delegates asked a broad range of questions about environmental impact, community benefits, policy, location, waste classification and safety. It was really important to engage and stimulate dialogue and discussion on these key topics.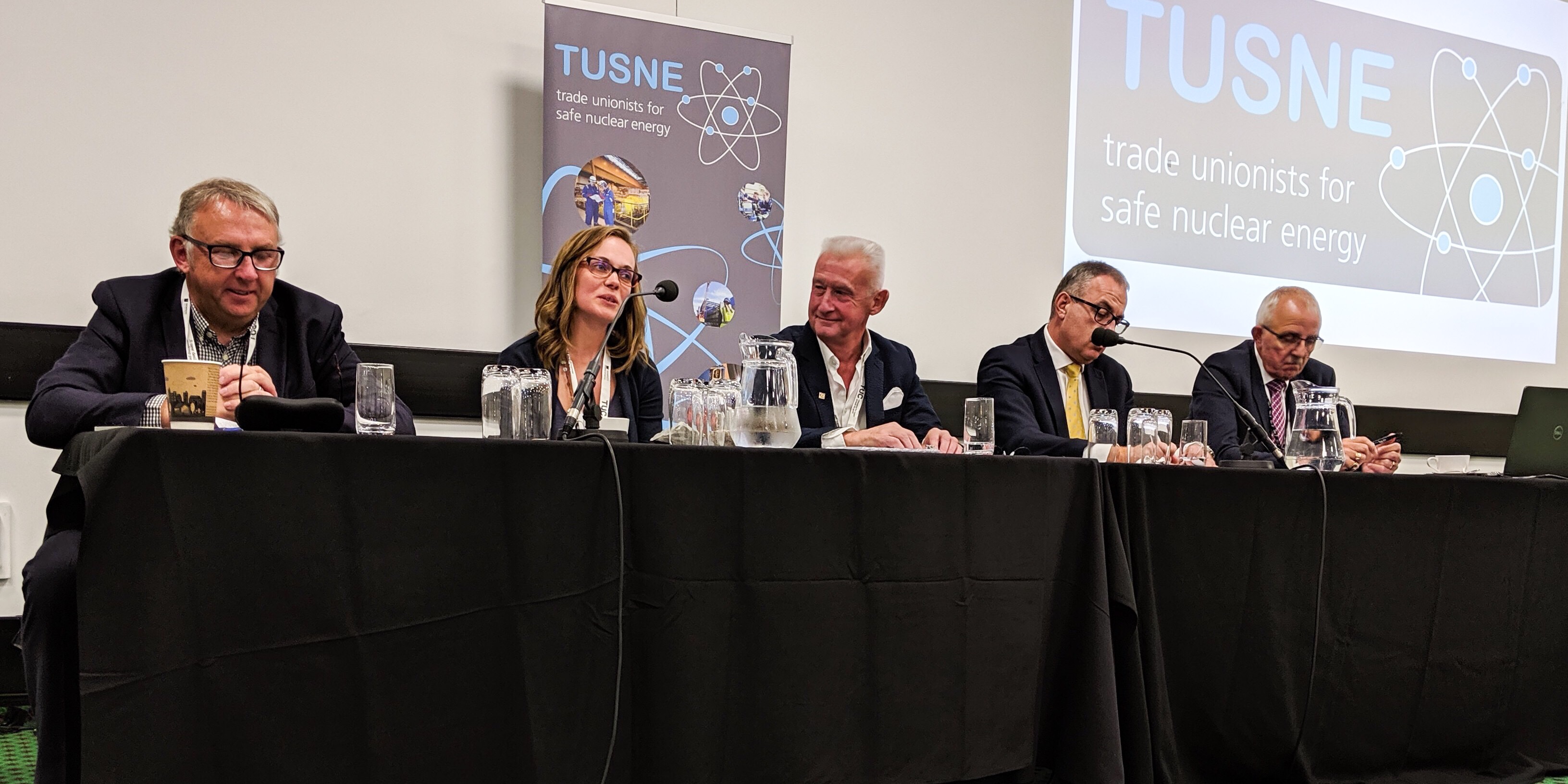 It was a worthwhile experience to be part of the TUC Congress this year, and we are planning to attend next year.
Cara Cusworth, one of RWMs union representatives, who also attended several of the fringe events focused on the Equality, Diversity & Inclusivity agenda, an important focus for RWM, captured this year's participation well, "It was a brilliant event. See you at TUC Congress 2020 in Brighton!"
Please visit our campaign homepage for more information on geological disposal and what it could mean for communities.