What makes an organisation ask every single one of its employees, contractors and agency staff to stop work and talk about safety?
On 1st October, we will ask everyone associated with delivering work at Sellafield – whether that is on the site itself or in our support office and supply chain facilities – to do just that.
To pause what they are working on and talk to each other about safety.
In this blog we'll explain why we are having these conversations now, taking a proactive approach to prevent a serious accident or personal injury.
A safety stand down is common practice across the construction industry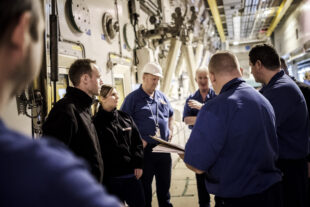 Stopping work to talk about safety on an industrial site can happen because of a major accident or near miss. An opportunity to reflect on what happened and what action can be taken to ensure it doesn't happen again.
It can also happen to coincide with a national awareness campaign, such as the National Safety Stand Down Week that the construction industry observes every year.
Our approach to our own safety pause is different.
We want to replicate pockets of excellent safety performance across the business
Mark Neate, Director of Environment, Safety and Security, said:
Across our teams of 11,000+ employees, agency staff and contractors we have examples of excellent safety performance.

People are working in some of the highest hazard environments in the country, they are working at height, they are working with nuclear materials and chemicals. And they are doing it safely.
This safe working was recently recognised by the Royal Society for the Prevention of Accidents.
The RoSPA Awards scheme receives entries from organisations around the world and recognises achievement in health and safety management systems, including practices such as leadership and workforce involvement.
Teams working on the clean-up of the Pile Fuel Storage Pond and those working in Project Delivery at Sellafield received special gold medals for achieving 6 consecutive gold awards.
Their colleagues who are cleaning-up the Pile Fuel Cladding Silo also received a gold medal award for reaching 5 consecutive golds.
So, why pause?
We want to see that excellent safety performance replicated across the site.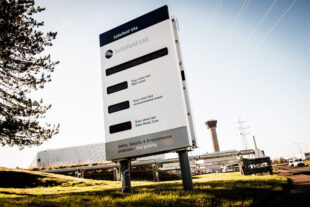 Our Site Director, Steve Bostock, believes a proactive approach is the best way to see that happen.
He said:
We do have some great safety records on the site, in fact it is now three years since our last nuclear site incident.

But, as an executive and leadership team, we don't just look at the highlights and records. We monitor the lower level indicators that either give us confidence or concern about our future safety performance.

We're seeing early indications of a down turn in our performance in areas like minor injuries, personal contamination and environmental compliance.

We won't wait until these indicators further deteriorate, until someone is seriously hurt, or the environment is impacted by our work. We're taking a proactive approach.

We have all of the systems, processes and protective equipment in place that you would expect to see at a nuclear site. All of these rely on people. They rely on people fully understanding the processes, not getting overfamiliar with them because they have used them for so long or have been doing a role for several years.

We need everyone at Sellafield – regardless of who employs them – to understand their role. To make safety personal.
One size doesn't fit all
Martin Chown, Deputy Chief Executive and Supply Chain director, said:
At a corporate level we are creating the space on 1st October for our teams to have a conversation about safety. But we aren't telling them what they must talk about.

The work that we do across Sellafield covers the spectrum of risk reduction and looking after nuclear materials to constructing capital projects and providing the services that the site needs to operate.

A safety conversation that is relevant to a team of operators who work in PVC suits and radiological areas wouldn't work for a team of people who operate our transport department. And local safety improvements identified by a team working in our laundry will not deliver the same predicted safety improvement for our office-based teams.
Making safety personal
As well as considering what they could do to keep themselves and their team mates safe, we will also ask everyone to think about how their role could impact on the safety of people in other teams.
Some of our employees will share their personal safety stories with their colleagues throughout September to help prompt these conversations.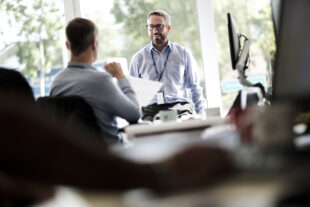 Carly Jackson works in legacy ponds, designing equipment that operational teams will use to clean-up our highest hazard nuclear facilities from her office in Warrington.
She said:
I try to spend as much time as possible with the operational teams as a reminder of why me and my team are designing equipment.

An item that is just next on our 'to-do' list will one day be in the hands of an operator.

I remember being on site and hearing an operator saying that she had felt worried when doing a particular task, and that stayed with me. Because me and my team can do something about that, we can help.

I constantly remind my team that we must keep operators at the forefront of our minds during design because we are creating equipment that doesn't just give them the tool for a job, it also gives them the confidence that the job can be done safely.
Talking about safety is not a one-off event at Sellafield
The safety pause in October is the start of what will be a regular event.
The start of a conversation that will continue at a company level but also at a local level with teams taking time out to pause and reflect on how they can help make Sellafield safer, sooner.